Candied Spiced Bacon Skewers Recipe
I'm pretty much always excited about getting creative in the kitchen, and during the holiday season, my enthusiasm for cooking skyrockets. Just give me an apron and call me Chef — I want to cook! And bake! And well… eat! I think my family is getting used to the influx of tasty recipes that start pouring out of our kitchen this time of year… actually, they make for some fantastic taste-testers as a few of them are rather picky. If my husband likes a recipe, I can pretty much guarantee you guys will!
My favorite comfort foods are usually warm, salty, and spicy. I'm not usually much for sweets, even during the holiday season (though I wouldn't turn down a few Christmas cookies!) but when I'm in need of a soul-warming snack, I'm probably thinking about bacon. This would make for a fun party appetizer and I can pretty much guarantee your friends and family will be asking for the recipe!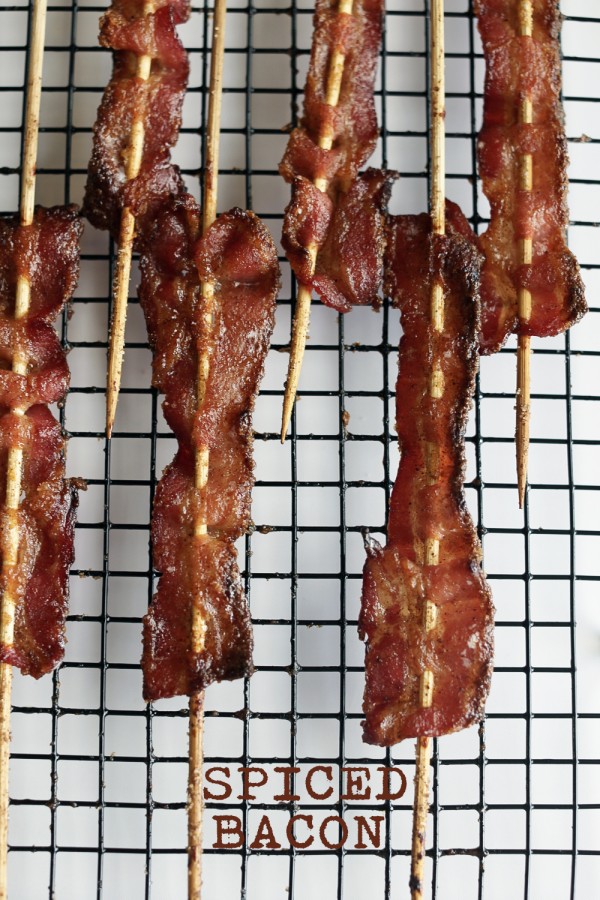 Spiced Bacon Skewers
Yield: 1 pound bacon
Prep Time: 15 minutes
Cook Time: 25-30 minutes
Total Time: 40-45 minutes
Ingredients:
vegetable oil spray
1 cup (packed) light brown sugar
1/2 cup granulated sugar
1/2 teaspoon cayenne
3/4 teaspoon ground cinnamon
3/4 teaspoon ground nutmeg
1/2 teaspoon ground cloves
1 pound apple wood-smoked, thick-cut bacon, excess fat trimmed from the short ends
Directions:
1. Preheat oven to 375.
2. Line a baking sheet with aluminum foil or parchment paper. Spray a wire rack with vegetable spray and place the rack on top of the baking sheet. You will need fifteen to twenty 8-inch metal or wooden skewers (if using wooden skewers, soak them in water for 30 minutes).
3. Put the brown sugar, granulated sugar, cayenne, cinnamon, nutmeg and cloves in a large resealable bag. Shake the bag well to mix the ingredients. NOTE: I didn't have a plastic bag on hand when I made this recipe, so I just mixed in a medium bowl, then dumped in a shallow pan.
4. Thread 1 bacon slice onto each skewer like ribbon candy. Don't push the bacon together too closely or the skewers won't cook evenly. Dip each bacon skewer into the plastic bag (or shallow pan) with the sugar mixture, making sure to coat both sides well. Lay each skewer on the prepared wire rack. Sprinkle the skewers with any remaining sugar mixture.
5. Bake for 25-30 minutes, until the bacon is brown and crips, turning the skewers after 12-15 minutes. Serve hot.
Back Around the Table: An "In the Kitchen with David" Cookbook
This bacon would be perfect for salads, soups, baked potatoes and just about anything because as David says, "Everything is better with bacon."