Starting 2015 With Essential Oils
We're just a few days into 2015, which means there's an air of fresh starts and new beginnings all around us! With self-improvement and natural health on the mind of many, more and more people are turning to essential oils as a way of supporting a more natural lifestyle. From cleaning your home and the air around you, to helping with anxiety, sleep, energy levels, and beyond, essential oils are an incredible asset to have — and it goes far beyond the fact that they smell just amazing!
I have been using essential oils for 10+ years, and lately I've been experiment even more with blends, diffusing, and bringing oils into my daily life. There's an entire shelf in my medicine cabinet dedicated to these amazing little amber bottles and today I wanted to share with you a few ways that YOU can start your 2015 with essential oils too!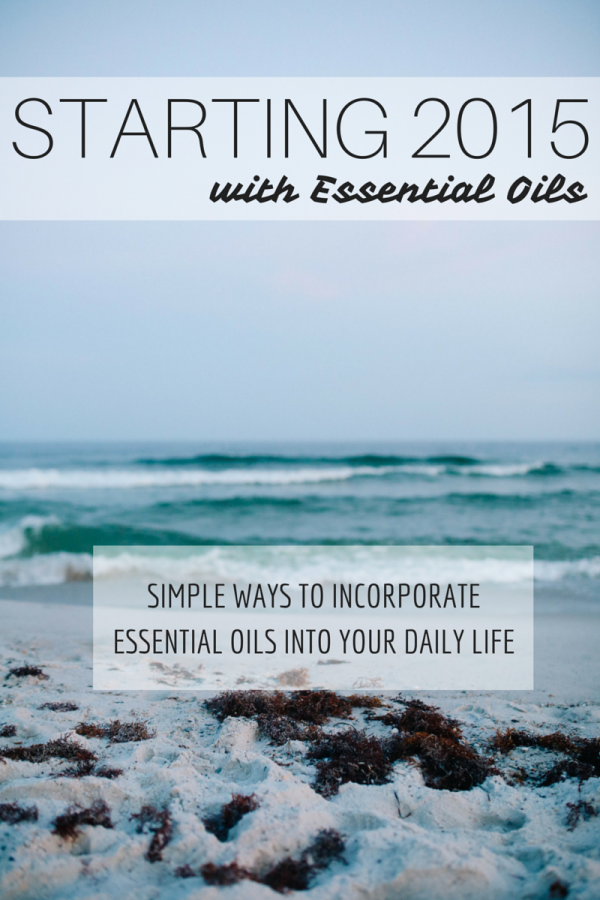 Starting 2015 With Essential Oils
Lavender
This is one of my favourite oils and it gets used in my home a lot. A few drops on your pillow at night promotes blissful sleep. Try using it in a diffuser in your home before bed to help you and your kids to feel mellow and relaxed!
If you happen to live in a warmer climate or are vacationing in the sun this time of year, bring along lavender essential oil to help with sunburns!
Lemon
I love lemon for its energizing scent and extreme cleaning power. You can boost your favourite natural cleaners with a few drops of lemon essential oils, or you can make your own spray using just water and lemon oil. Keep it in a spray bottle for simple disinfecting. You can also replace your hand sanitizers with lemon essential oils — just a few drops on your fingers will do the trick!
Lemon also makes for a great mood enhancer. Feeling grumpy? Inhale a bit of lemon by wafting the bottle under your nose, or diffuse it in your home.
Frankincense
Simply apply 1-2 drops to your face and neck on a daily basis to promote younger looking skin. You can also try a facial steam with a drop of frankincense and a drop of lavender essential oil for rejuvenated skin. Just take a bowl of boiling water, add a few drops of oils, then lean over the bowl with a towel over your head once the heat isn't so intense. Close your eyes and breath deeply.
Purification
This is a Young Living blend (of lemongrass, rosemary, tea tree, myrtle, and citronella) which has an invigorating, crisp scent. You can diffuse this oil in your home to clean your air and to neutralize foul or stale odors — great for spring cleaning, musty basements, or if you've burned something in the oven.
If you have pets, Purification is a must.
You can also use this oil to cleanse and soothe itching skin. Just massage in a few drops!
Eucalyptus
If you're battling cold symptoms, I love to take a hot shower with a few drops of Eucalyptus to help stuffy noses and congestion. (It'll also wake you up in a jiffy!) When I have a cold, I'll put a drop or two right on my pillow or on the hem of my pajama shirt, too.
Thieves
This is my favourite blend from Young Living Essential Oils (clove, cinnamon bark, rosemary, lemon, eucalyptus) and it can be used in lots of different ways. This blend makes for a fantastic cleaning enhancer with a spicy scent. It's my favourite to diffuse and is said to have immune-boosting properties as well.
Try adding a few drops to your dishwater to thoroughly clean dishes and eliminate any stuck-on odors. You can also use it to make your own disinfectant spray!
Disclaimer: These statements have not been evaluated by the Food and Drug Administration (FDA). These products are not intended to diagnose, treat, cure, or prevent any disease.  The information on this site is not intended or implied to be a substitute for professional medical advice, diagnosis or treatment. Please confirm any information obtained from or through this web site with other sources, and review all information regarding any medical condition or treatment with your physician. Never disregard professional medical advice or delay seeking medical treatment because of something you have read on this website.