Strawberry Protein Smoothie
This post is sponsored by REAL SEAL.
Have you set a goal or theme for 2016? I don't always do this, but this year I have decided on a theme to "minimize."
This theme of minimizing goes for everything – from decluttering my master bedroom closet to removing junk food from diet. I'm very serious about this change and so far I've been able to stay on a smart path. It's keeping on that path that is the hard part!
Smart choices can be difficult, especially when we have busy lives. Fortunately, REAL® Seal is a way of showing you and your family that the product you're bringing home from the grocery store is a genuine dairy product, made with milk from cows on US dairy farms. You can also spot the seal at restaurant and popular food chains as more than 350 brands boast the REAL® Seal on over 10,000 products!
Quality dairy products are super important to me and my family, which is why we strive only to bring home milk, cheese, and more with the REAL® Seal — spotted easily as a white drop of milk with a red border and the word "Real" inside.
Today I wanted to share an easy and delicious smoothie that you can put together in no time. You'll feel great after you drink it, too!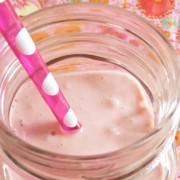 Strawberry Protein Smoothie
Ingredients:
1/3 cup REAL SEAL skim milk
1 scoop protein powder
1 cup frozen sliced peaches
1/2 cup frozen strawberries
1/4 cup frozen pineapple chunks
1/2 ripe sliced banana
Directions:
In blender, combine milk and protein powder. Secure lid and blend (from low to high if using a variable-speed blender) until smooth. Add peaches, strawberries, pineapple and banana. Secure lid and blend (from low to high if using a variable-speed blender) until smooth. Add ice, one cube at a time, blending until the desired consistency is achieved. Serve immediately.
This post is brought to you in partnership with REAL® Seal. All thoughts and opinions are my own.