Super Moist Chocolate Mayo Cake Recipe
Sponsored post by Mirum Shopper. All opinions are my own.
April showers bring May flowers and May flowers bring…no not pilgrims but a seemingly endless run of things for which I need to make something! There's the Teacher Appreciation lunch at school, end of year celebrations for various kids' groups and sports activities, graduation parties, and of course, Mother's Day. It's a lot!
It seems like every time I turn around there's another event for which I need to bring a dish. But you know what? It doesn't phase me at all. That's because I have my secret ingredient, Sam's Club.
Sam's Club Food Hub lets me stock up on all the amazing Unilever products I need to be able to whip together a treat, or a party.
And if I'm REALLY in a rush, Sam's Club helps me do things even faster with two amazing new programs:
Club Pick-Up

lets me get same day pick-up on groceries!

The Scan & Go

app lets me check out faster at the store.
So even if you don't learn about that picnic or event until the last minute, you can still get your dish made and there on time!
Speaking of secret ingredients, you might be surprised by the secret ingredient that I used in this Super Moist Chocolate Cake recipe I have for you today – Hellman's Mayonnaise!
AND IT'S SO DELICIOUS!
Grab the recipe below. 🙂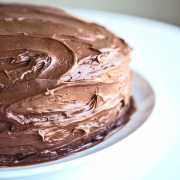 Super Moist Chocolate Mayo Cake Recipe
Yield: 12 servings
Prep Time: 5 minutes
Cook Time: 30 minutes
Ingredients:
1 box (16.5 oz.) chocolate cake mix
1 cup Hellmann's® or Best Foods® Real Mayonnaise
1 cup water
3 eggs
Directions:
1. Preheat oven to 350°.
2. Grease and lightly flour two 9 inch round cake pans*; set aside.
3. Beat cake mix, Hellmann's® or Best Foods® Real Mayonnaise, water, eggs in large bowl with electric mixer on low speed. Beat on medium speed, scraping sides occasionally, 2 minutes.
4. Pour batter into prepared pans.
5. Bake 30 minutes or until a toothpick inserted in centers comes out clean. Cool on wire rack 10 minutes.
6. Remove cakes from pans and cool completely. Sprinkle, if desired, with confectioners sugar or fill and frost.
*Or, prepare cake mix as above in 13 x 9-inch baking pan and bake 35 minutes or until a toothpick inserted in center comes out clean.
Which recipes from Unilever Brand's Food Hub will you be trying this spring?

This post was sponsored, but all ideas are my own.