The 5 Most Important Back to School Tips
Ah yes, the back to school season is creeping up on us and it won't be long before we're throwing ourselves into that oh so familiar routine once again. While some kids might be itching to get back into the classroom, some may drag their heels at the idea of saying goodbye to summer vacation — and sometimes it's us moms who have a hard time getting back into the swing of things!
I am by no means new to this whole "back to school" thing, but I still haven't completely mastered the art of getting out the door that first day with zero mishaps. I have, however, learned a few ways to make it slightly less bumpy! It's not something we can rush, moms, it's something that takes a little finesse and a lot of patience — but their first day back to school doesn't HAVE to be a nightmare and today I want to share a few things I've learned over the years!
Start early.
Sometimes kids need to practice a little before they are back into the school-day routine — so why not do that practice BEFORE school begins? If bedtime has been pushed back a little during summer vacation, move it back up, bit by bit, before the big day arrives. If they have been sleeping in, start waking them up a little earlier each day until their first day back. Then it won't seem like such a shock to their system when you suddenly insist they hit the sack at 8pm!
Back to school shopping.
I used to think it was much easier to do all the back to school shopping on my own, but if you have kids who are particular about their outfits or how their clothing feels, you'll want to bring them along. There's nothing more upsetting than trying to dress a child in clothing he refuses to wear, moments before you need to head out the door. My Charlie likes to try on clothing before we buy it, so bringing him along to Target is a surefire way to ensure he LOVES the items we bring home. I'll help him pick out a few pairs of jeans and then he can test them all out in the changeroom to find the pairs he loves best. He feels included and independent — and I don't have to waste time and money driving back and forth to return or exchange items he doesn't like.
Whether you're on the hunt for little boys or girls, you'll find plenty to LOVE at Target this season!
It's also nice to give kids the option to pick out some other cool gear for back to school. One big bonus to this approach is that they are less likely to LOSE it if they actually picked it out themselves. Charlie's lunch bag and shoes will probably end up in the lost-and-found, unless he recognizes them from choosing them himself! I love that Target has such a big selection of fun back to school gear — with characters he loves like Minions and Spiderman — so there's always something he's excited about when we go on a shopping trip together!
Breakfast on the big day.
Just in case the kiddos don't end up getting out of bed RIGHT on time on that fateful day, it's nice to know you have a quick and simple breakfast waiting for them! Some of our favorite and FAST breakfast ideas are:
yogurt with granola and fruit
cereal with cut up strawberries
fruit salad that's been made the night before
smoothies
toast with avocado and other veggies
toast with peanut butter and seeds
And for the moms? Don't forget to set the timer on your coffee maker the night before! That'll definitely help!
Let's have lunch!
I'm not 100% perfect at this approach, but our mornings are always MUCH smoother when I make lunches the night before. Sometimes my kids like to buy from the cafeteria, but on homemade days, I like to prepare everything the night before, then pop it all in the lunch bag and into the fridge. The next morning, all I have to do it toss it in their backpack!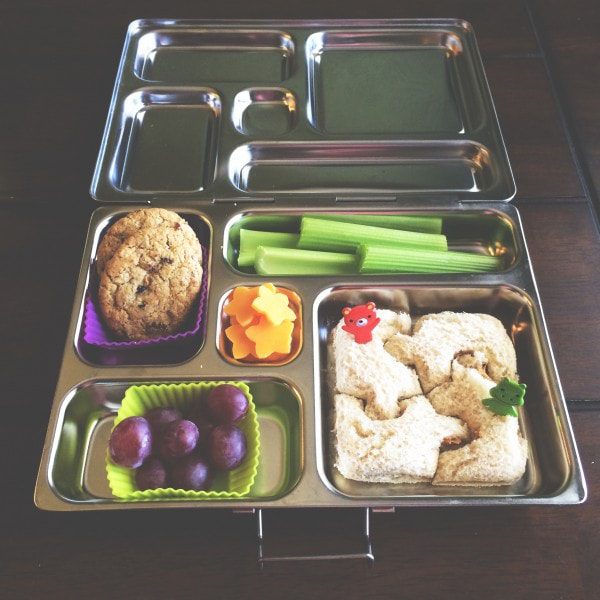 Labels. Put them on everything.
Things are going to get lost. Even if Charlie picks out the coolest Minions backpack in the world, I wouldn't put it past him to misplace it at some point. Sticking a label on their jackets, lunch bags, pencils cases, and such is a great way to make sure it ends up back in their hands after a trip to the lost-and-found. I also like to write Charlie's name on the tags of clothing and in the bottom of his shoes.
BONUS TIP: Pre-plan their outfits!
I find mornings tend to go much more smoothly if you've also picked out clothing for your kids before heading to bed the night before. Sometimes I just end up picking out what Charlie's wearing to school, but mostly he likes to help out! Even if they pick out something that doesn't match in the slightest — just roll with it! If it helps them feel independent and a part of things, I'm happy to let him walk out of the house with a red shirt, orange shorts, and mismatched socks! 😉
The back to school season doesn't have to be daunting — for you or your kids! — you just have to be prepared. I hope these tips will help you and your family get off to a great start this school year!
This post is sponsored by Target.