The Miami Heat? My trip to Florida with Gatorade.
Well, I'm back home after 3 days of rainy southern Florida last week.  Yes, rainy.  And windy.  Like, I stood on my hotel room balcony and was almost taken away by the storm.  I couldn't believe my first trip to Miami was spent exclusively inside.  In addition to the weather, my hotel room was FREEZING.  What is up with that?  The sun decided to come out as I was leaving. Nice.  I did have a good time, though, I promise.  What to hear more about it?  I'm going to tell you anyway.
Sunday was full of flight delays.  Oklahoma had experienced a bad snow & ice storm that Thursday, and although the runways were clear, we had to "de-ice" before taking off.  We waited on de-icing for 30 minutes past departure.  THEN, as we are finally ready to go, a lady on the plane becomes ill and we have to return to the gate.  On one hand, I was annoyed with the VERY LONG delay, but on the other, I was thankful we were on land when it happened.  She looked totally spaced out and couldn't speak a lick of English.  Not good.
Anyway, we took off an hour late, which caused me to miss my connecting flight in Houston, which took me into Miami much later than expected.  I had to go directly from the Miami airport, with my luggage, to the Pro Bowl  It was insane, but I made it. It was fun meeting up with the Gatorade folks, other bloggers, and my dear Julie.
On Monday morning, Julie & I had an interview scheduled with D'Brickashaw Ferguson from the NY Jets.  We headed over to the media center, walked around for about 45 minutes and finally found the Gatorade area after "grandma" (long story) pointed us in the right direction.  D'Brickashaw had just completed his GSSI testing, so we questioned him about his experience and listened to the scientist explain his test results.  We also took a few pics with him.  He was cool.
After the interview, I chilled in my hotel room and did some major work on Mom Made That! and Mom Spark until it was time to go to a Miami Heat game!  I am a HUGE NBA fan and was so stoked that we were able to sit on the second row, behind the basket.  It was awesome seeing Dwayne Wade play. He is amazing. Sitting up close to the action is a whole different experience, and I loved every bit of it, event though they lost.  We got back to hotel pretty late.
Early Tuesday morning, Julie & I headed to the Gatorade Performance Lab for our own GSSI testing and assessment. The pic below is from the "Bod Pod", which is a machine that measures body mass. I found out that I have 29% body fat, which is considered "Moderately Lean". I felt like I was about to blast into space inside the pod! Do you like my cap? I'm considering wearing it to BlogHer.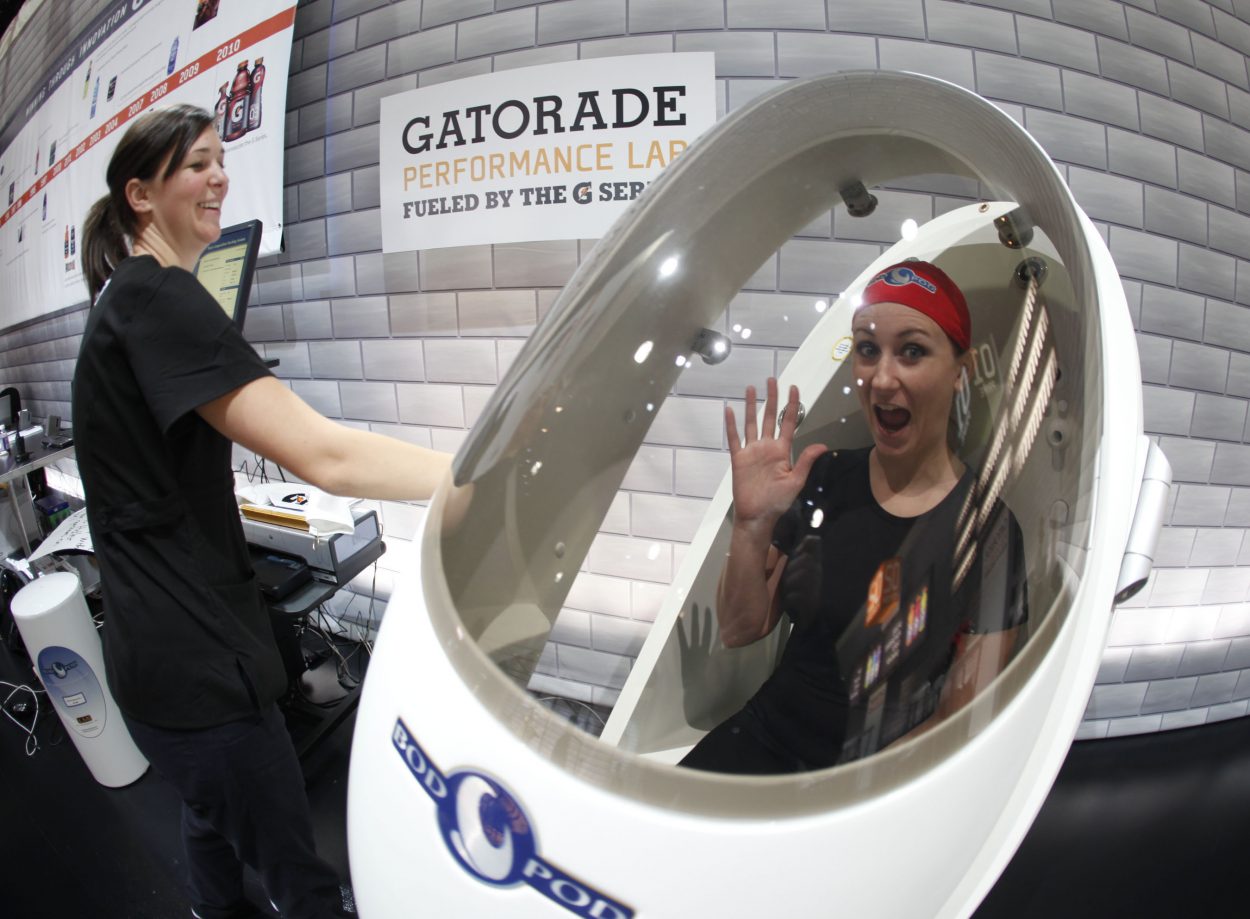 After the Bod Pod, I had my GSSI (Gatorade Sports Science Institute) testing, which was interesting. Basically, I was hooked up to a set of tubes (where I could only breathe through my mouth) while I peddled on an exercise bike. The scientists took readings of my hydration levels during the workout. The test lasted 20 minutes and wasn't took difficult, just a little uncomfortable having the mouthpiece in my mouth. (I have sores in my mouth now, ouch!) The scientists then looked over my test results with me, explaining my sweat levels, heart rate, hydration, etc. Pretty cool!
This experience taught me the benefits of hydrating before, during, and after a workout. I also tried the new G Series of Gatorade sports drinks, which include Prime, Perform, and Recover. My favorite flavor? Berry. (in case you were wondering) The G Series will be available in April of this year, so check it out then.
After the GSSI testing, I packed up and took a cab to the airport.  I had a great time, but was ready to see my family!  Thank you, Gatorade for having me out!