TWITTER PARTY ALERT! Wednesday, June 21st at 2:30pm CT #KnowYourRisk
Those who have had a family member diagnosed with pancreatic cancer understand: it's personal. Pancreatic cancer comes with little warning, and the timeframe from diagnosis to death is often very short, creating a life-altering impact on survivors and families.
Detection of pancreatic cancer in early stages impacts survival rates for this deadly disease. What can you do to help early detection? First, know your family. Then, know your risk for pancreatic cancer.
The Rolfe Pancreatic Cancer Foundation's mission is to serve as a catalyst for the early diagnosis and ultimate cure of pancreatic cancer. Our "Pancreatic Cancer: It's Personal" campaign contributes to this mission by helping increase public awareness of the life-saving impact of early detection.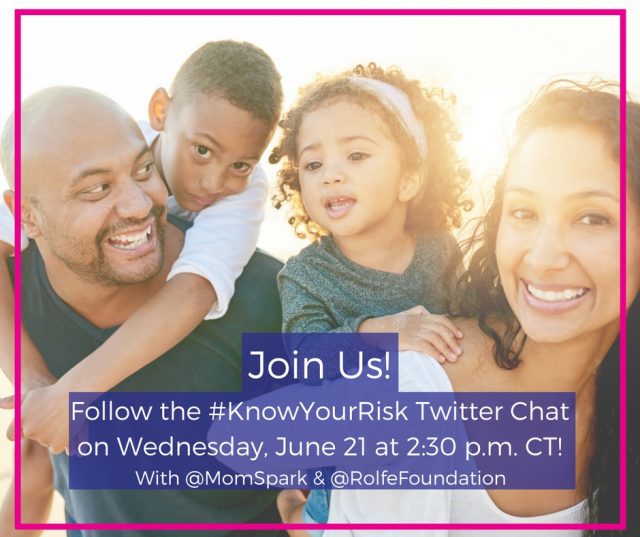 Join me (@MomSpark) and @RolfeFoundation on Twitter at #KnowYourRisk on Wednesday, June 21st at 2:30 pm CT as we talk about the personal impact of pancreatic cancer as well as how to begin the path to early detection. We'd love to hear your thoughts, stories, and wisdom on the topic, so follow along!  Check out the details below and be sure to RSVP.
In the meantime, learn more about early pancreatic cancer detection at www.KnowMyRisk.org.
THE DETAILS:
TOPIC – The Personal Impact of Pancreatic Cancer and Path to Early Detection
TIME – Wednesday, June 21st from 3:30-4:30 PM Eastern (2:30-3:30 PM Central,  1:30-2:30 PM Mountain, 12:30-1:30 PM Pacific)
HASHTAG – #KnowYourRisk
PLACE –  Twitter at #KnowYourRisk
PANELISTS – @MomSpark  @RolfeFoundation @Counselor_Stoll
GOING TO THE EVENT? RSVP HERE! LIST YOUR "NAME" AS YOUR TWITTER HANDLE (I.E.@MOMSPARK) IN OUR LINKY LIST BELOW.
This Twitter party is sponsored by Rolfe Foundation.