Watercolor Flour Sack Kitchen Towels
I'm totally enamored with the whole watercolor thing that is happening right now. As a kid I got a set and I totally didn't understand how to use the tubes of paint that I had gotten. It was a more adult kit without instructions and I was in the 4th or 5th grade so I just stuck my brush into the tubes and got to painting. I made a portrait of my Boston Terrier Skeeter. I was so happy with it and showed it off proudly.
But then one day a drop of something wet fell on it and then I realized that these paints WERE just like the ones I used at school even though the paint was in a tube instead of a little plastic box with paint "cakes". I was devastated.
These days I really dig the whole soft and almost feminine look of watercolors. I want a watercolor dress and pillows and to try out this style I decided to first make some kitchen dish towels. I figured that if it worked, well, then yay! and if it didn't they're going to get filthy in the kitchen if I just use them like regular rags instead of show towels anyway. No harm, no foul!
For this project you will need:
flour sack dish towels
dye in a few shades
generous amount of water
inexpensive brushes
These are the towels I purchased and afterwards I did a bit of a face palm… Purchasing them from the craft sections t WalMart I paid $10 for 4. It felt high but what are you going to do?
But on my next journey to Walmart I screwed up my face and went to the kitchen linens section. There I saw a package for about $8 and I can't remember if there were 8, 10, or 12 in there. Any way you slice it these were a much better deal that the crafting section ones. So take heed!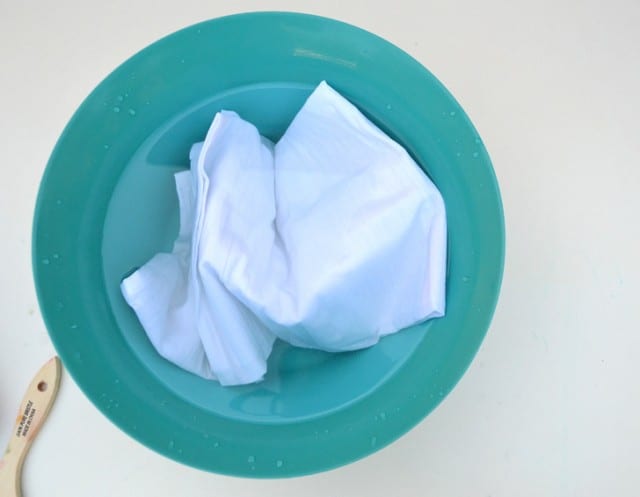 I used a big, apparently floppy, punch bowl to hold my large amount of water. I had planned on using soda ash water but that went and spilled all over the floor on me so it was straight  up water instead.
If you're wondering, soda ash is this powder that you add to water to help dye stick to fabrics you are working with. When you buy little tie dye kits the soda ash is already mixed in with the dye. When using other kinds of dye there is no soda ash and I feel like my colors are less vibrant because of it. It is sold near the dye at craft stores and I always use Tulip everything because it's my preference.
It does make the water feel "sticky" and it's a little strange but it will help you dye take better.
Prepare your dye for use by placing a small amount into a bowl and add a small amount of water. Test the color on a dry papertowel. These are our "watercolors". Wring out most of the moisture from your towels and paint your dye on them. Use your big bowl of water to add more water and blend the colors into one another.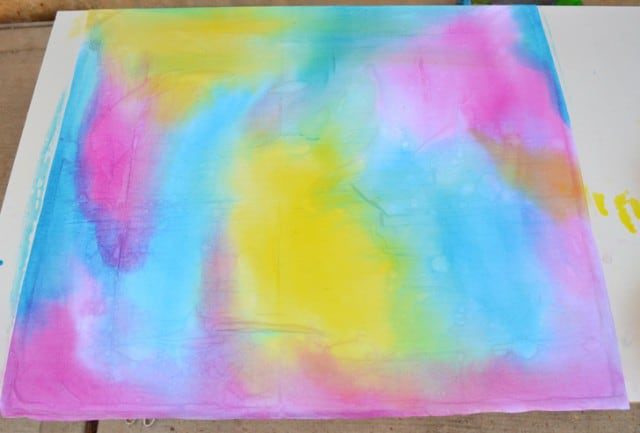 Now since I didn't have soda ash and I didn't' want slightly tinted towels I went heavy with my dye and kept it pretty thick.
You can make patterns, pictures, go at it randomly or leave lots of white space. There are no rules!
Now I failed to wear gloves so I walked around like this for a good day. If you have someplace to be the next day you definitely need to protect your hands from this technicolor staining going on.
I was working on a table my dad made out of a piece of melamine he cut out. Melamine is awesome for crafting. Though I had this awful mess, with dye no less, it wiped right up. If you're not lucky enough to have such an easy area to work from, be sure to protect your surface with trash bags or tarps or something the dye won't go through.
Once you've gotten your towels stained pop them into plastic bags (you can even use store grocery bags) to stay moist while the dye sets.
After the dye has set for 3-5 hours rinse until your water runs clear and wash in hot water with no detergent. Now I messed up and made my towels way, way lighter than I had hoped for. Basically I went on auto pilot (as it was late at night and I've got a bazillion plates spinning right now) and tossed detergent and, to make things even lighter Biz.I guess in this case it worked too well 🙂 When I woke up and pulled them out of the wash the next day I instantly saw my error!
Good news is that while pastel, they are still gorgeous. And my momma loves them which is fab because they belong to her 🙂