Ways To Wear Flash Tattoos
Earlier this year, in Arizona, I had my first run-in with flash tattoos (aka those shiny, metallic temporary tattoos you're seeing all over the place) when I donned a few for a party at a blogging conference. My feet have never looked so fancy! Since my arms are already covered in tattoos, I decided to add a few feathers to my feet and I loved how they turned out! Actually, it has made me want to get permanent tats on my feet, but that's a whole other post! Today I wanted to share some lovely flash tattoos and ways to wear them! Check them out below!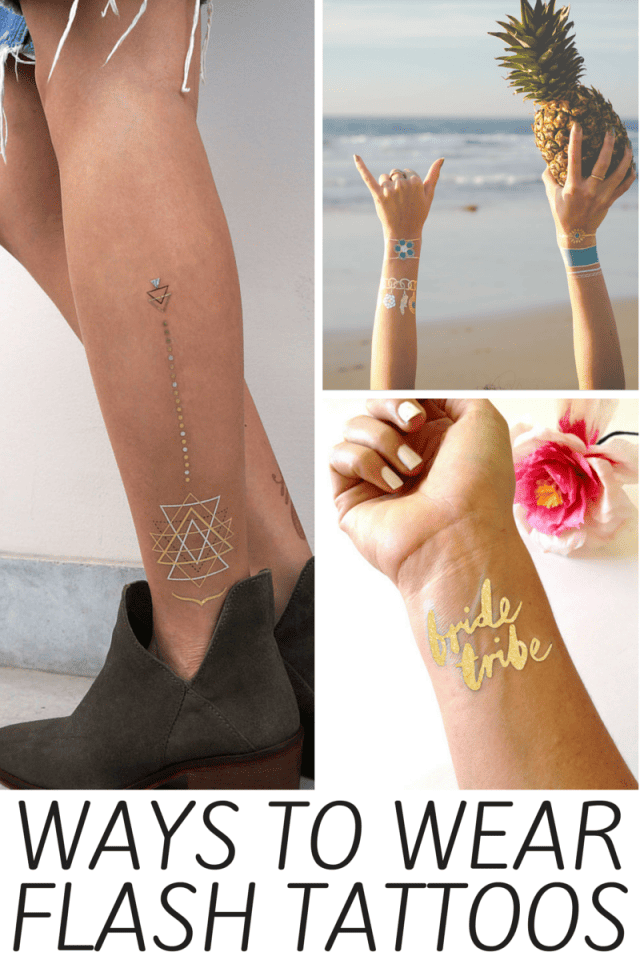 I think some of my favourite flash tattoos are geometric, like this style. I love how this one's been styled on the outside of the leg, paired with a few others tats too. Perfect with sandals or booties too!
Does't this make you want to hit the beach, like, right this moment? I love these gold and turquoise tats so much! I want to layer them up and sit in the sand!
If a pal will be heading down the aisle soon, you and your fellow bridesmaids might want to don these "bride tribe" flash tattoos for the bachelorette shindig.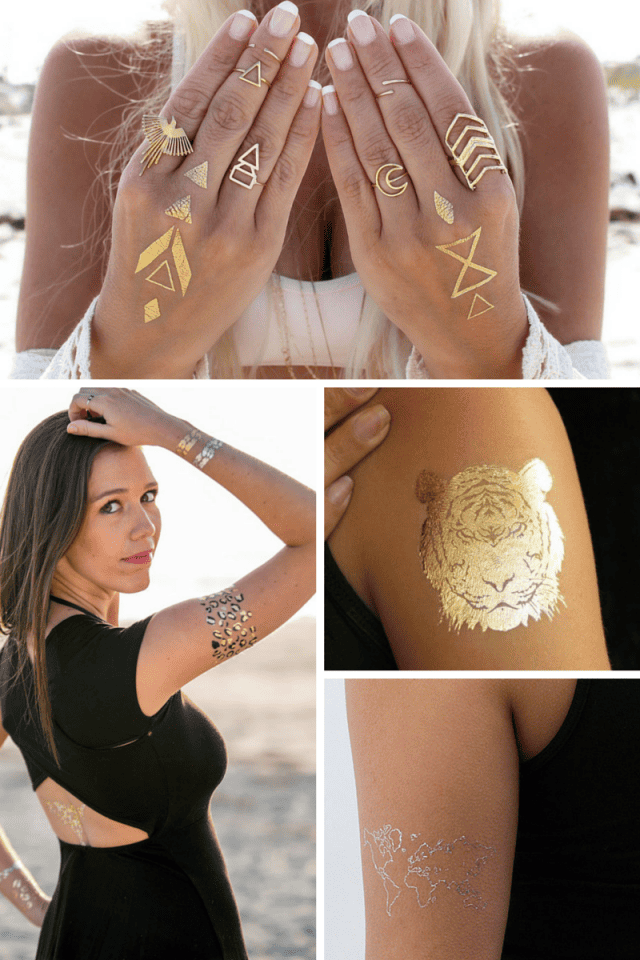 I'm definitely digging how these gold flash tattoos look on her hands, especially mixed with gold jewelry. Every outfit needs a little something shiny!
Got the eye of the tiger? If you're feeling a little Katy Perry-esque, maybe a tiger tattoo is your style. On your arm, ankle, or shoulder — cute!
Roar! This two-tone black and gold animal print tattoo is a bit on the sassy side, but I love it! Around the arm, wrist, or ankle perhaps? Actually, I feel as though my daughter would try to snag this one from me — but I'm sure she'd want to wear it on her face to become a true leopard herself!
For the travel addicts and wanderlust-ers among us! I love the look of this silver map of the world tattoo! I think this one would look cute on my feet too!
Follow Mom Spark // MomSpark.com's board tattoos. on Pinterest.