What I Do All Day as a Blogger.
Last month, Amy Clark from Mom Advice wrote a brilliant blog post explaining the "real story" behind her niche blog. Amy offered readers a peek behind the scenes of Mom Advice by sharing a typical day of work, as well as her endless tasks, responsibilities and the wonderful rewards that follow. I left the post inspired to write my own answer to the question, "What do you do exactly?"
So, What Do You Do?
I cannot count or remember the number times my Grandma has asked me, "Now, what is it that you do again?" She isn't the only one, either. I experience this question just about every time I (try to) explain my career to a new contact who is not in the social media space. It isn't an easy task explaining my job, because it is really several jobs running simultaneously. I wear many, many hats.
Hat #1 – WIFE & MOTHER.
First and foremost, I am a stay-at-home/work-at-home wife and mother. I know, you already knew that. Still, I need to say it.
I clean (ahem, with some help), cook (*cough* though not as much as I should), shuttle the kids to and from school, offer countless hugs and boo-boo kisses, take care of the home finances….you get it. Wife and mom stuff. You know, the work that never ends, but the sweetest.
During my 11 years as a stay-at-home mom I have attempted several jobs that I could run from home. Home daycare (never again), selling Avon (man, I sucked at that), selling candles (wut?) and running an eBay business. (buying/reselling and making custom baby shower gifts) Although my eBay business did have some success and helped the family financially, the workload became too massive after having my second child, so I ditched it.
I discovered blogging shortly after.
Hat #2 – BLOGGER.
This, of course, is the most obvious hat that I wear (other than the mom hat), but even the word "blogger" confuses many, so let me elaborate on the definition. My definition, at least.
Basically, I write. I write for this blog, Mom Spark, and for Healthy Perspectives, a blog sponsored by Puritan's Pride. I occasionally write blog posts for brand websites, too. For example, in a few weeks I'll be sharing some original recipes on the Duncan Hines website, like the one below.
cake pops post for Duncan Hines
Although I do have three paid writers on Mom Spark, I still have a heavy workload each day with sponsored stories (brand-sponsored articles)/reviews, regular content posts (I have a theme each day of the week via an editorial calendar) and a TON of email correspondence. A. Ton. Of. Email.
While I *could* quickly throw a post together and publish within 10 minutes and have more "free time", I don't. Instead, I take the time to craft quality content and images. Each post can take anywhere from an hour to two hours, depending on the amount of images and length of content.
Why do I spend so much time on each post? To stand out and offer my readers quality content. It just so happens that brands like this worth ethic as well.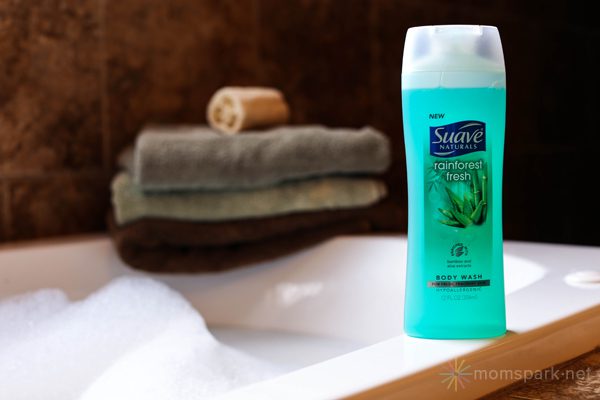 sponsored story for Suave Naturals
The better the quality of my images and content is, the more brands and readers there are that want to read and work with Mom Spark. As with any business, quality = cash & growth.
So, as a blogger, I write, photograph, and share and tell stories. That in itself is a full-time job for me, as I typically receive an average of 5-7 sponsored post a week, in addition to regular blog content and countless email correspondence.
Hat #3 – SOCIAL MEDIA STRATEGIST AND COMMUNITY LEADER.
"Strategist" sounds fancy, but really it just means I help brands and PR firms come up with plans and ideas for their social media goals. Mom Spark Media specializes in connecting brands/PR with mom and dad bloggers (blogger outreach) for sponsored stories, brand ambassadorships, reviews, Twitter parties and the like, via a blogger community network of 400+ members that I have put together over the last three years. We also offer the community of bloggers blogging and social media course content, as well as support to enhance their individual career paths in this field.
A normal work week for Mom Spark Media consists of multiple phone call meetings with existing and new clients, writing proposals, signing contracts and reading/writing a TON of email correspondence. Then, there is the actual execution of each campaign, which is a beast, too, and the reason I have a wonderful Project Manager to help facilitate it. She assists with daily email correspondence (people, this alone is hours of work), provides our bloggers with instructions and assistance for each campaign, follows up on blog post edits and deadlines, and engages with our members in the community.
Last year, Mom Spark Media paid bloggers and contractors over $50,000 in various work and campaigns, and we continue to grow each year. Some of our most successful campaigns include Lands' End Quality Coat Challenge, Pop Secret Moms and Crocs Moms.
Hat #4 – EXECUTIVE PRODUCER.
Random, I know, but I have been playing the role of Executive Producer (thanks to my blogging/social media income) for the full-feature independent film Army of Frankensteins (directed by my husband) since August 2012.
Other than providing financing for the movie, I also manage the financial records, making sure the production stays within the allowed budget. As of today, we have roughly five days left of production, then it's on to months of editing and finally releasing to the right film festivals.
This project has, by far, been the most difficult one my husband and I have ever tackled. Saying that, we already have a loyal cult following and truly believe this is a stepping stone for something amazing.
Hat #5 – EVERYTHING ELSE.
So, in addition to blogging, developing social media strategy and handling the finances of a movie, I handle a couple of other websites on the side:
Mom Made That! – A subscription-based website I created in 2008 that promotes mom businesses. 

My Party Swap – A subscription-based website where users can sell, buy or swap new or used party supplies.
Also, from time to time, I receive opportunities to shoot a videos for brands or make appearance in magazines. I travel (another passion of mine) occasionally for press events, conferences and business meetings, too.
How Did You Get Started?
This is another question I am asked often and is usually paired with, "How do I get started blogging, too?" There is so much packed into both answers that it is hard to know where to begin.
First, how I got started. As with most bloggers I know, blogging began as a hobby, then slowly (ever slowly…) grew as I started networking. I met brands, PR firms and bloggers at conferences (my first conference being BlogHer '09) and quickly discovered that the more people I met who were in the same field as me, the more opportunities came my way. The first paid blog post I received was for $15 and I ECSTATIC. Not because it was $15 ('cause I mean, come on, $15) but because I was finally getting PAID. It inspired me to continue to grow my readers, social media followers, network and up the quality of my content. It worked.
at Mom 2.0 Summit 2010
As for the social media strategy side of my job, this came with the blogging territory. The more reps that asked me, "Who do you recommend for this campaign?" the more I realized, "I need to start charging for this." So I did, and it exploded from there.
How do you get started earning an income blogging?
You have to love doing it. Like any small business, if you have the passion and love for it, the business will grow and flourish. The work never feels like work, and because of that, it continues to grow. Money can never be your motivator. You will never make a dime or a smart decision if it is.
Network. I cannot stress this enough. Networking, both online and in real life, has been huge for the success of my business. Conferences are a great start. Talk to as many people you can while you are there, too. Know your goals and voice, stick to that, and tell everyone about it. Listen, too. Take advice from those you meet and always surround yourself with positive role models and people who are more successful than you. You will learn a ton if you do. Also, know that networking with bloggers is just as important as with brands, if not more. Bloggers are more likely to recommend you to a brand when they ask.
Stand out, but not in a negative way. The best way to do this is to be your own unique self. Go the extra mile when you produce work for your clients. They will notice. Take the time to shoot beautiful photos and thoughtful content. Worry less about what other bloggers are doing and more on how you can improve YOU.
How Much Money Do You Make?
Ahhhh, the million dollar question. The most popular question I receive, by far. I rarely discuss money, unless I am bragging about how much I pay bloggers.
All I will say is that after five years of hard work developing this career, I am earning a healthy full-time income. Last year, I made a little more than my husband, which I thought would never happen with something that was little more than an idea a few years ago. I do not say this to gloat, but to share what is possible for you.
How Do You Manage It All?
I honestly don't know. Balance doesn't exist. It just doesn't. I work in spurts when I get the chance. I squeeze in time while the kids are both in school or at night when my family is sleeping. It's a challenge. Even with my writers and Project Manager, I still work 50-60 hours a week, sometimes more. This August, both of my children will be in school full-time, so I *think* I will finally be a healthy schedule. Sure, that. 🙂
Questions?
So, there it is. Everything. Now you know. Have questions or comments? Let's hear it.