White and Neon Pink Succulent Planter
I had seen some pretty and totally simple white pots at the store the other day and I knew exactly what I wanted to do with them. That is until I caught wind of the price. My dear word! So I decided to hit up the Walmart garden department and see what I could do in the DIY way.
As it turns out, I could snap up a pair of pots for less than even the single white pot. And since I always have white primer and white spray paint there would be no additional costs to make my own knock-off versions. Instead of money it I decided to invest my time in this DIY and it's one I feel like paid out really well!
For this project you will need:
Clay pots
White spray primer
Glossy white spray paint
Succulents
Neon pink aquarium gravel (seriously!)
Hit up some plain old, inexpensive terra cotta clay pots with a coat of spray primer. Use the good stuff. Cheap out or try to skip this step and that terra cotta is going to simply soak up coat after coat of your good spray paint!
Finish with a coat of glossy white spray paint in your favorite brand and be sure to let everything completely dry. Overnight is best.
When planting your succulents you'll want to take them from the nursery pots and roll the roots. Simply take the roots and gently bust them up. Straight out of the pot the dirt and roots will hold the shape of the pot and that can limit the growth of the plant long term.
At this point you can also separate plants. Succulents propogate super well and busting one plant up with quickly result in 2 fine looking plants. Also, should you break any pieces of your succulents off (as I did a time or two) simply place the broken bit into the soil and it will root and continue to grow. In fact, you can purchase succulent cuttings online for them to grow into big projects since the plants themselves can get kind of pricey.
Get a variety of plants and place your tallest in the back of the pot.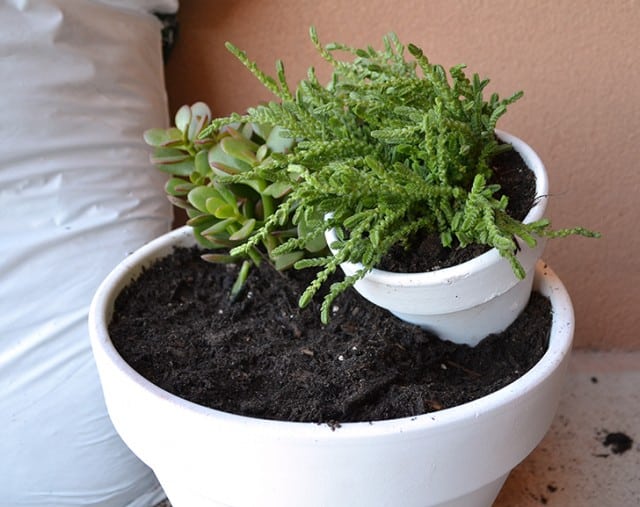 Plant a succulent that will drape into your smaller pot and then plant the pot, at an angle, into the soil next to the larger plant.
Continue to fill the front of the pot with succulents of varying styles/shapes.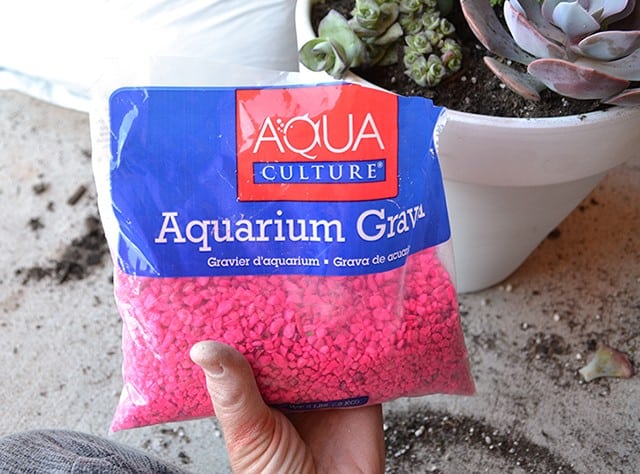 Grab a bag of neon pink aquarium gravel and get ready to make this baby pop!
Gently place the gravel on top of the packed dirt, around your plants in both pots.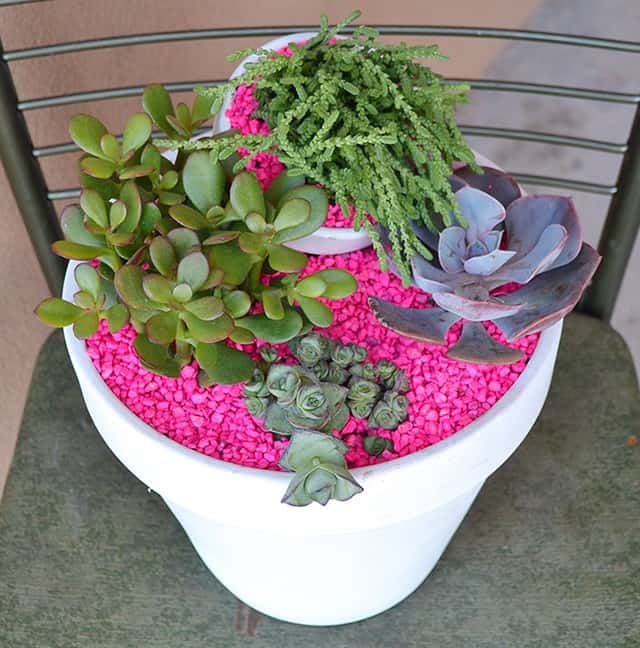 Give the plant a small amount of water and water occasionally after to keep healthy.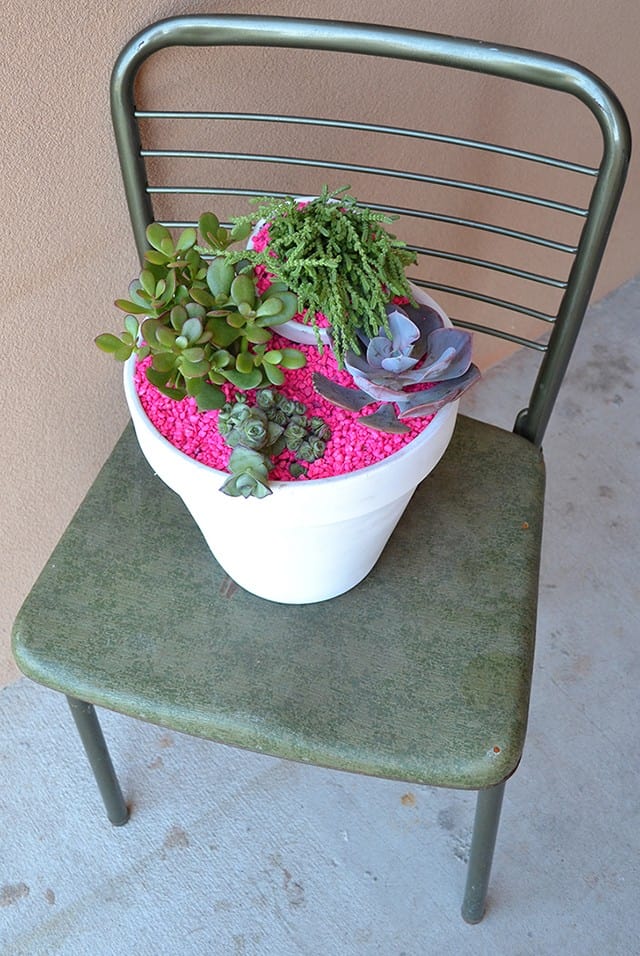 As time goes by the plants will get larger and totally fill the pot. My succulents in the front should start to grow and hang off of the edge of the pot. Won't that be neat?
Now you can totally use smaller plants to save money because they WILL grow to fill the space. I only used the larger plants so it would have a more impressive photo for the finished product!
So what do you think? Are you in succulent love? Will you be making a succulent garden with pop?