Why Rey Is The New Luke Skywalker
Disclosure: Disney sponsored my travel, accommodations and activities during my stay in Los Angeles.
I'm still processing my experience during the STAR WARS: THE FORCE AWAKENS press junket, especially my interview with Harrison Ford. It was such a cool experience!
Today I am sharing my interview with Daisy Ridley, who plays Rey in the new movie. She is rad, as you will be able to tell from the interview below.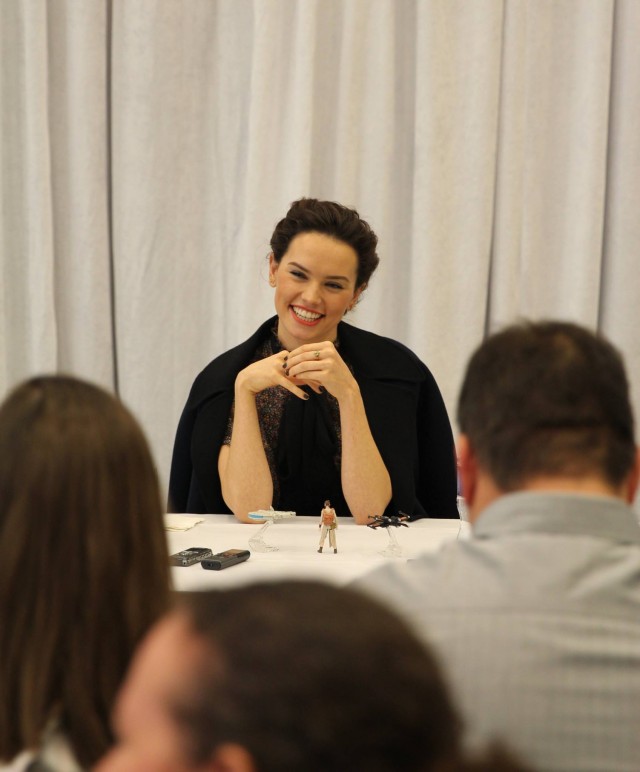 Kathleen Kennedy referred to Rey as the new generation's Luke Skywalker. How do you feel about that and what do you think it means to girls coming up in this generation that are going to see the film maybe for the first time?
"Well, it's weird. I wasn't really thinking about myself in those terms when I was doing it, because I think that might have been slightly overwhelming. But now I can see all of them in her. She's a pilot so there's Han. She's a kick-ass woman, so there's Leia. The humble beginnings and an incredible story the same as Luke, too. Obviously it's very exciting that I'm a girl and that more people hopefully will be able to relate to this story because of that."
I wasn't a huge Star Wars fan before, so I'm hoping that with, the fact that I'm as excited as I am, I hope that other people can feel that and perhaps feel like this is something that they can now come on board to if they haven't already felt that.
Are there other characters or female roles in the movies that you kind of thought about when playing Rey?
Matilda is my favorite film. Not being appreciated, Matilda's obviously in a family that doesn't do that to her and Rey has no one. But to go on a journey of self discovery and push yourself beyond limits and meet people who bring the best out of you. I can definitely see those parallels.
What does it feel like to be a part of such a huge franchise that has spanned several generations?
I'm glad I kind of didn't know how far it reached. It was really only at the convention this year, the first convention we did, that I was like oh my god. There were a lot of people there and everyone is there for the same reason. I think that would have been quite overwhelming if I had been dealing with that while also dealing with the fact that I'm just a young girl being thrust into this thing and I don't quite know why I'm here and all that kind of stuff.
Can you tell us a little about your audition process?
My audition process was very long. I've never been as nervous for an audition as I was for it, so I turned up an hour early.
I was like, I can't be an hour early, so I went to a coffee shop to like sit and chill. And then I went in half an hour early and they were like, no you need to come back, because you're still too early. But it was great. Obviously it was just over in a flash. You put so much pressure on yourself when you think about it so much.
Luckily J.J. saw something and in my last audition I really felt like I did a good job. I was really pleased. I obviously still wanted the role but even if I didn't, I was really glad that I showed him what I can do. Then I got the role. So, that was a good ending!
What characteristics of Rey do you see in yourself?
I see a lot of myself in her. I think she is quite like myself as a person. I think everyone can be hard on themselves but I think all too often people are far too hard on themselves and it's not celebrated enough that people can actually enjoy themselves. All of the qualities I think I possess in small things I think Rey has in greater amounts.
I like to think I'm kind of brave but she's far braver. I like to think I try and do the right thing but she far exceeds that. So, I think she's not polished and I think that's why she's so brilliant and so relatable. She's far more of anything I think I could ever be.
For me, I hate lying. I'm a very open person and she's open to everything that's going around her, even though it scares her and even though it makes her feel like she wants to run. She kind of plows on, so I hope I have those qualities.
What was it like for you to watch the trailer for the first time?
I felt an overwhelming sense of oh my god, look at what I'm part of, all of the work that's gone into this, is just incredible. Thousands of people and time and energy and love has gone into this thing and that was really the beginning. We had seen the teasers but it was really obviously the beginning of that.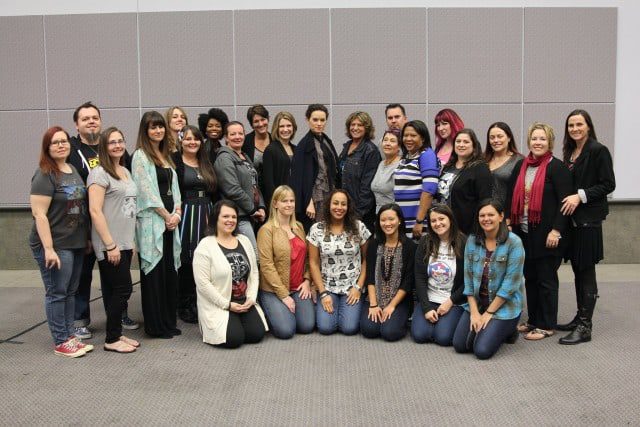 You play a very strong female lead in the movie. Do you have a good takeaway for young girls?
Yeah. I think I've been very lucky in my life to be able to look up to incredible women, that me and my mom have an amazing relationship. She is really an amazing woman.
I remember when I was auditioning, I met Kathy [Kennedy] and I didn't really understand who she was at that point. That's obviously embarrassing now! But, she asked me who I looked up to and I remember talking about my mom and now I look at Kathy and think she's another woman I look up to. It's funny because the women I look up to are older. They're wiser. They have far more life experience. Rey, in her way, has lived a life and she has wisdom probably beyond her years. The thought of girls being able to relate to a character in a film where perhaps girls can't find in films so much of what they can physically see themselves in. They can't follow a story sometimes if there's nothing that's representing them in the film. So, to be part of that is incredible.
I'm just an actress, I'm not changing the world, but to be part of something that is perhaps groundbreaking and to be part of a movement of women all over the world is an incredible thing.
STAR WARS: THE FORCE AWAKENS arrives in theaters everywhere on December 18th! OMG, the movie releases this week!!!
Disclosure: Disney sponsored my travel, accommodations and activities during my stay in Los Angeles.