Witchy Brouhaha – Fun Halloween Decor
I can hardly believe that it is already the second week of October. Seriously… where has the year gone? At any rate, it is about that time to start getting our spooky on and I've done just that!
Now I know you have seen the cute yard decorations with a witch wrapped around a tree or a telephone pole, right? They seem to be really popular in my neck of the woods and I thought it was neat a couple of years ago. But now I've seen them so often and in so many different yards that I'm kind of over it… But I love the concept.
I decided that what is another hazard of the occupational witch would be falling into your nasty brew. It just so happens that this clumsy old witch  did just that and wound up half sticking out of her bubbling cauldron!
So if you're looking for decor for your front porch, or a  centerpiece for your Halloween tablescape, this is the project for you! This craft is super cute and it can be worked into your holiday decor easy peasy!
The list looks daunting, but this is a pretty easy project that can easily be completed in an afternoon… For this project you will need:
Plastic cauldron (I purchased mine for $6.97 at Wal-Mart)
Neon green acrylic paint & old spray bottle & paint brush
Polyfil
Swimming noodle & pocket knife
Witchy patterned tights (check costume aisles)  & Witchy shoes (check thrift stores)
Black glitter
Decoupage & brush
Toothpicks & duct tape
Frilly black lace (optional)
Lots of filler (like Styrofoam or newspaper)
Some heavy things (cans of food, a brick, rocks, etc.)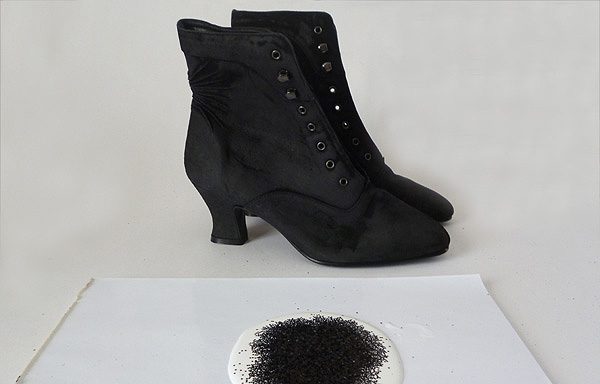 First things first… shoes! The shoes you use are key to whether or not this looks like a witch sticking out. I went to the thrift store with two ideas. Plan A: lace up booties with heels – glitter them black. Plan B: plain ol' kitten heels – glitter them red because there's no place like home.
Luckily I was able to find my Plan A in these size 5 boots whose faux leather was coming off in my hands. Now I cannot wear a size 5, not by a long shot. I have no intentions of using these shoes for anything other than decoration, but feel free to get your size and borrow them from the old witch from time to time!
My shoes were really torn up but that didn't matter since I was going to be covering them in glitter anyway. To glitter your shoes mix up a healthy amount of Mod Podge or other decoupage medium and a very healthy amount of black glitter. My shoes were a tiny size 5 and I used  about 43 grams of glitter and that is a lot!
Now this step is completely optional… If you want to seal in the glitter so that you don't get it all over your house, or if you want to put candy in your  cauldron and don't want glitter getting on it, you should seal the glitter in with decoupage. Set these babies off to the side to fully dry. Even when it feels dry to the touch, it might actually take a few days for it to dry to be completely translucent.
If your house is already covered in glitter like mine or you just don't care, I'd highly recommend skipping this step. While it seals in the glitter, it also seals away quite a bit of the glitzy glam. I sealed mine for the DIY but I think that I'm going to go over them with another loose coat of glitter to kick the glitz factor up a notch!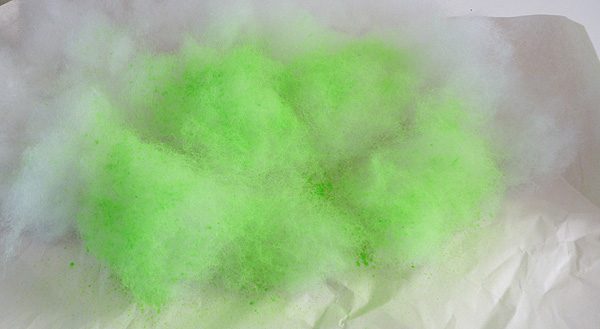 This isn't the next step I took, but I'm going to recommend that you do because it takes a long, long time to dry.
Squirt an entire 2 oz. bottle of acrylic craft paint into your squirt bottle. I'd highly recommend reusing a bottle that store-bought cleaner came in as they tend to work a lot better. I emptied and used a wrinkle release bottle circa 2005 that probably isn't even sold anymore – just use whatever you have on hand.
Fill your acrylic bottle with water and shake to get any remnants of paint from the inside. Do this twice.
Lay out piles of your polyfil on something disposable or a work surface you can get paint on. Give your spray bottle a good shake and spray down the stuffing liberally with your paint and water mixture. Turn the stuffing around as needed to get green in all of the nooks and crannies.
Set aside to dry.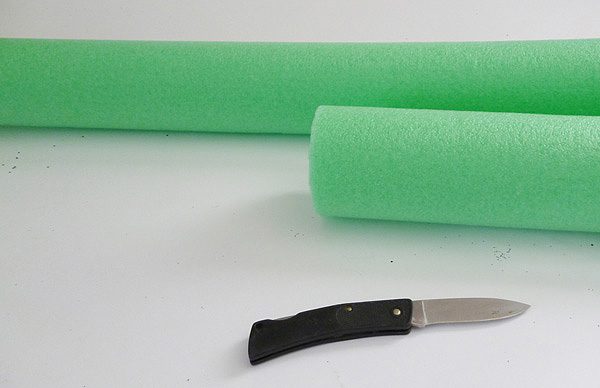 Determine how long you want your witch legs to be. I made two lengths for each leg. The longer are 16 inches and the shorter are 8 inches. I cut two different pieces because I wanted the silly witch to have bends for a "knees". That is optional and if you want to simplify (and not have to worry about gravity  as much with heavy shoes) just make two legs that are 24 inches total.
If you decided to go with knees you'll need to get your two cuts together to form one leg. Place the noodle pieces as you would like them to be with the bend. Eyeball where the pieces touch. Place toothpicks in those areas and allow half of each to stick out. Push your other piece onto the toothpicks and adjust as necessary.
Next, take duct tape to permanently affix the two pieces together and really tape up that sucker. Your shoes will be heavier that your noodle, so the bends need to be very strong in order for this thing to stay together.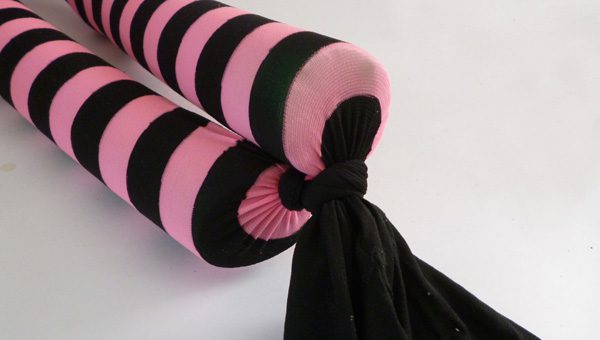 After you have your legs put together as you would like them, it is time to get them dressed! If your witch is wearing shoes, take some of your Polyfill stuffing and fill in the bottom of your tights to make feet. If you're using boots, you can completely ignore this step…
Push your legs into your tights. If you have a solid colored foot, cut just before your first stripe and tie a knot. If your pattern goes all the way to the toe, just shove your noodle all the way in.
Make sure your tights are nice and snug and tie a knot for each leg at the top. Then tie a big knot  with the waist area portion of the fabric and push the knot down to the legs. You can trim the excess fabric or leave it.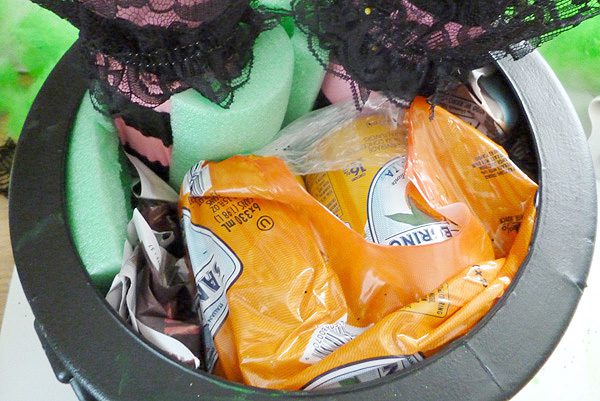 Take your legs and place them in the cauldron as you would like them. Take newspaper and stuff  all around so that they stay in the position that you are looking for.
Now… this is where the tutorial kind of goes south and gets kind of wonky. I apologize for that, but don't worry, it gets better… You see, in my head, there is apparently no such thing as gravity. I was going to toss these babies into a cauldron with some newspaper to hold them up, step back and sigh at how awesome my new decor was. In truth? The stupid thing kept tipping over. And not slowly. I'd put it up and it would instantly be laying across the floor like magic.
So, in order to get this thing to be freestanding because I have a job and can't hold it up all day, I tossed in 4 cans of San Pellegrino and called it good.  Use whatever you have on hand. It can be a brick, rocks, cans of soup, whatever you can shove in there to make it work.
First things first. Get those shoe's on your witch's feet. Stand back and make sure that your decor is free standing. If the weight of the shoes make her tipsy, add more weight, experimenting with placement until you can stand back and watch it not fall from a distance.
Next, shove your, hopefully, now dry, stuffing all around the top of the cauldron. Shove it in, around and under things to get a good fit. You want it to stay of its own volition and not fall out whenever you transfer it to another room.
After you've put a bit of stuffing around and see about how tall it is going to be, place your lacy pantaloon bottoms around each noodle, making sure that the lace sticks up enough to be visible. Use  straight pins to attach.
Continue shoving in your filling until you are happy with the appearance. If you have any gaps in color, use your spray bottle to fix it up. Remember to wash off any over-spray your cauldron might receive.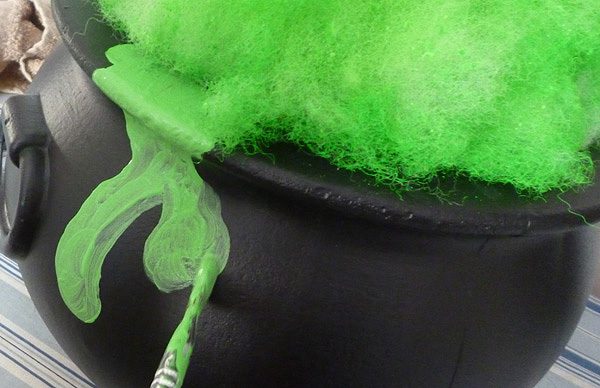 Last, but not least, use your acrylic paint to paint a big drippy glob of boiling witch brew over the side of the cauldron. After you paint on a shape that you are happy with, really glob the stuff on so that you get some fun dimensions!
I hope that you have enjoyed this Halloween themed DIY! Check back next week for some more holiday fun!