Your Truest Self by Janice Lynee Lundy
I wanted to share a book with you that I am currently working on.  I think all of us moms can relate and benefit from its message.  I would love to hear your thoughts, so please leave a comment.  Enjoy. 🙂
Your Truest Self: Embracing the Woman You Are Meant to Be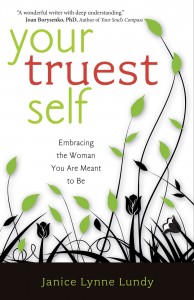 Within every woman there is an essential Truth waiting to be claimed, a Truth that will empower her to claim a spiritual life that is real and authentic, one that will nourish and sustain her every day. Janice Lynne Lundy thoughtfully guides readers toward finding that essential truth for themselves. Drawing from her personal encounters with twelve spiritual mentors—Frances Moore Lappé, Daphne Rose Kingma, Iyanla Vanzant, Naomi Judd, and more—she has created twelve Transformational Truths to guide and enable women to live more peaceful, confident, and open-hearted lives.
(Released by Sorin Books, Oct. 2008)
Any woman trying to keep up with the pace of life knows how challenging it can be to balance work, family, and personal needs. Challenging? How about darned near impossible!
Women are suffering from stress and stress-related illnesses, heart attacks, and strokes in escalating proportions. We feel depleted, burned out, or close to exhaustion. How in the world do we get the job done, meet obligations, take care of our families, and still take care of ourselves?
It seems to me a shift in priorities may be in order.  Our tendency is to take care of business—everything and everyone around us—first. Then, if there is time or energy, we take care of our own needs, placing ourselves dead last on our "To Do" List. This is the way I Iived for years. Finally, in 1994, I had a "hit the wall" health experience. (I wrote about this in my first book, Coming Home to Ourselves.) I was forced to not only slow the pace of my life, but to come to a screeching halt. If I was to thrive, to be healthy and happy, I had to make serious life changes. What did I do? What can any women do in a similar situation? We can learn to "befriend" ourselves.
My dear friend and mentor, Sue Patton Thoele, an author and pyschotherapist, taught me about befriending. Sue is one of the featured mentors in Your Truest Self. She represents the fifth Transformational Truth "I CultivateCompassion for Myself. As I learned from Sue, befriending begins when we can treat ourselves as nicely as we treat everyone else. This means giving ourselves permission, time, energy, and the resources necessary to slow down, relax, and rejuvenate our wonderful self. We do good things for ourselves each and every day—not just when we're on vacation.
Befriending requires an attitude of lovingkindness toward one's self. We can begin by stripping out the unkind attitudes we hold toward ourselves; stop setting impossibly high standards for ourselves; stop pushing through to exhaustion. Then we incorporate small acts of self-care into our daily routine—rest, time for silence, creative pursuits, reading, or pampering. We do this in "baby steps," in 5-minute increments, even if that is all the "free time" we have.
It is up to each of us to put an end to our own self-abuse—to be tender and loving to ourselves—so that our truest self, a peaceful and loving self can emerge. Believe me, your family and co-workers will thank you for it!
 About the Author
Janice Lynne Lundy is an inspirational speaker, interfaith spiritual director, syndicated magazine columnist, and the author of four self-help/spiritual growth books for women. Her newest book,
Your Truest Self: Embracing the Woman You Are Meant to Be
, has just been released by Sorin Books. She resides in northern Michigan.