Directors Ron Clements and John Musker Share Easter Eggs in Disney's MOANA Movie
Disclosure: Disney sponsored travel, accommodations, and activities during my stay in Los Angeles.
I am back with another fun MOANA experience from my time in Los Angeles!
So far, I have shared my experience on the red carpet, 3 excellent reasons why you should see the movie, my interview with Dwayne "The Rock" Johnson, Lin-Manuel Miranda, Auli'i Cravalho, Nicole Scherzinger, favorite MOANA products, THE BFG DVD/Blu-ray release, my set visit to ABC's SPEECHLESS, interview with Lucy Dahl (daughter of Roald Dahl), Freeform's 25 Days of Christmas tv schedule and ABC's Dr. Ken.
Today, I'm sharing a portion of my chat with Directors Ron Clements and John Musker of Disney's MOANA.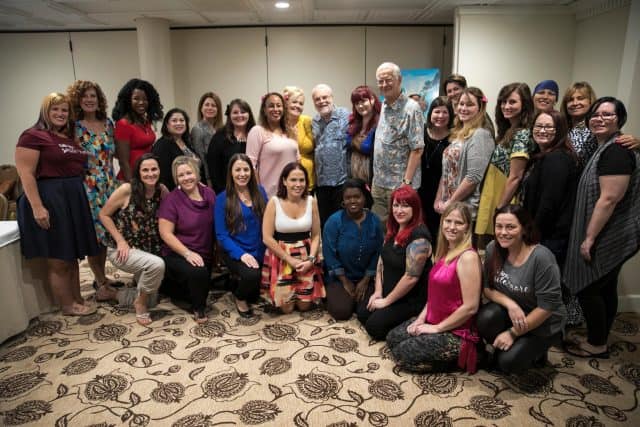 ABOUT MOANA
Three thousand years ago, the greatest sailors in the world voyaged across the vast Pacific, discovering the many islands of Oceania. But then, for a millennium, their voyages stopped – and no one knows exactly why. From Walt Disney Animation Studios comes MOANA, a sweeping, CG-animated feature film about an adventurous teenager who sails out on a daring mission to save her people. During her journey, Moana (voice of Auli'i Cravalho) meets the mighty demigod Maui (voice of Dwayne Johnson), who guides her in her quest to become a master wayfinder. Together, they sail across the open ocean on an action-packed voyage, encountering enormous monsters and impossible odds, and along the way, Moana fulfills the ancient quest of her ancestors and discovers the one thing she's always sought: her own identity. Directed by the renowned filmmaking team of Ron Clements and John Musker ("The Little Mermaid," "Aladdin," "The Princess & the Frog"), produced by Osnat Shurer ("Lifted," "One Man Band"), and featuring music by Lin-Manuel Miranda, Mark Mancina and Opetaia Foa'i.
THE INTERVIEW
The move from traditional animation to computer animation.
RON: Some things are the same in terms of the script and the storyboarding and the voice actors. But the actual production process is quite a bit different. We had to actually have tutorials before even the movie started.
JOHN: In CG they've got to build the characters, literally create them in three-dimensional space. They've got to rig them which means they'll put all the armature in there so they can move around. They got to create the world they work in. So, it's a longer set of time.
RON: There's a lot of cool things you can do. But a lot of things even that had to be figured out in the movie. Even the idea of a living ocean that has a personality of a monster, a lava monster, some of those things particularly where character animation and effects animation merge, that doesn't– that isn't done usually.
So, and there were a lot of things just to figure out how to do it and a lot of really smart people that, that sort of said we actually don't know how to do this.
On producing a film on Samoan culture.
RON: The big thing we did was a huge research five years ago when we first pitched the movie. We spent three weeks in Samoa, Fiji, Tahiti. We met with cultural ambassadors, linguists, anthropologists.
JOHN: We got to sail in Fiji and navigators and we really tried to connect with those people. We really tried to connect with the culture and learn how proud they were of their background as the greatest navigators the world has ever seen.
RON: The importance of respect for nature, respect for the environment and also the interconnectedness and extended families and the idea of your heritage and your legacy. We heard this expression in Tahiti, "Know your mountain."  And your mountain is essentially everything that led up to you, all the people that led up to you, everything that happened, all of the things that if they didn't exist, you wouldn't exist. And they said if you don't know your mountain you really don't know who you are.
Why Maui and Moana were selected.
JOHN: I was intrigued with the area of the Pacific islands.  And then that led me to read Polynesian mythology and then I read about this guy Mali who was unbelievable. He was you know, a shape shifter. He had a magical fishhook. He could pull up islands.  He had tattoos, kind of a superhero. And I was like why has this never been done in a movie before? And so I showed it to Ron. We pitched a simple idea to John Lassiter.
JOHN: And it was called the Mighty Maui actually, was sort of the original title. Then John's like you got to do research. You got to go to the islands.
And when we went there and we heard about navigation and all this and it was really Ron's idea, what if we have a character called Moana, which means ocean and we built it around her, someone who wants to be a navigator like her ancestors. And Moana we saw as a true grit type story where she really is this determined, forceful individual and she teams up with kind of a washed up, you know, some down on his luck.
JOHN: She's the focus of the story and so it was a challenge when we were making the movie always to keep her at the center.  Sometimes Mali, because he's so you know, he's kind of like a magic character, he could start to rise up and we said no this has got to be in the service of her story.
RON: It was really a hero's journey. We thought of a hero's journey for Moana. She's on a quest to save her people. She faces numerous obstacles. She's resilient. She's also empathetic, which is an important part of who she is and, and fearless and that she really finally proves herself and becomes the person that she's meant to be.
A few easter eggs in MOANA.
RON: And did you see Sven?
RON: He's the easiest one.
JOHN: Yes, there are a lot of them.
RON: There are many others and we will not tell you what they are.  We will give you some clues. They're really interesting and some are very difficult. Some are a little easier, some are not.  But Olaf is in the movie. And you might think how can a snowman be in there but he's in there a couple of times.
JOHN: In a tricky way. Flounder from Little Mermaid is in there briefly.
JOHN: You may have seen Flounder. And actually, Flash, the sloth from Zootopia. Baymax was in there, too. And Wreck-it Ralph and is in there very briefly.
Disclosure: Disney sponsored travel, accommodations, and activities during my stay in Los Angeles.