DIY Embellished Easter Baskets
Sometimes I'm absolutely amazed by how expensive things can be for holidays. You can get a ridiculously cute basket at the store but it is going to cost you. Or you can get an inexpensive basket but it's going to be pretty basic. But I wanted something ridiculously cute AND inexpensive which meant it was going to be DIY or bust.
Simple solid colored woven Easter baskets are being sold at Target for $1.50 apiece and I scored 2. I also grabbed $1.00 worth of pink and green filler "grass" and then I set out to raid my stash to make them cute at home. In the end I wound up hitting up the craft store but I only added another $7 onto the entire project with, surprise, surprise, leftovers to replenish the craft stash!
For this project you will need:
Bright colored but simple basket
Transluscent chunky glitter
Mod Podge (any formula but glossy)
Embellishments – flowers, ribbons, sequins, buttons, etc.
Hot glue gun
Grab any inexpensive basket you can find and like the color of. I went with solids even though there were also some super cute multi-color baskets because I didn't know exactly how crazy my after market add ons were going to wind up getting.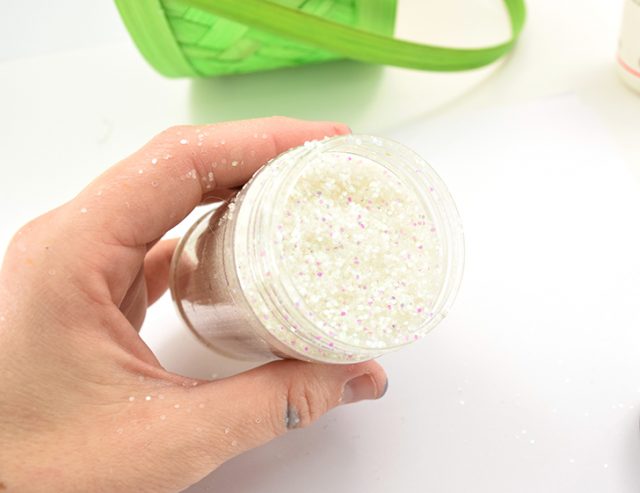 To make this basket pop we're going to glitter the outside with translucent glitter to make it really pop and look kind of like a gum drop. Sweet, right?
Grab any version of Mod Podge except for gloss. I have a difficult time with that formula working well as a glue.
Brush your basket with Mod Podge and then sprinkle your glitter on.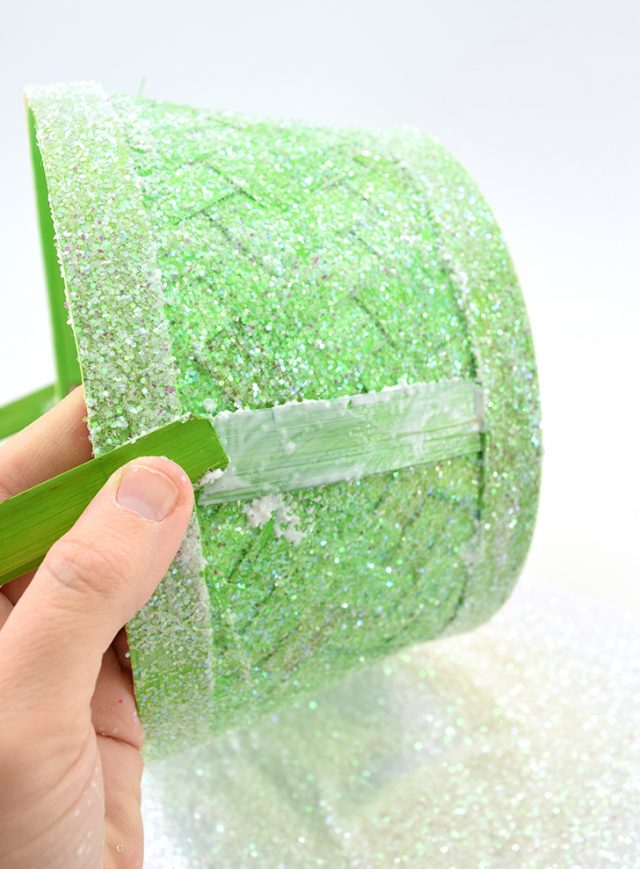 Work until the entire basket is well covered.
FYI – If you spread Mod Podge on the entire part of the basket you want to glitter and then glitter the whole thing you'll have a prettier finish in the end. When doing in sections like I did with my green basket you'll get some overlap and it isn't quite as glitzy in those areas.
Allow the Mod Podge and glitter to dry, overnight is best.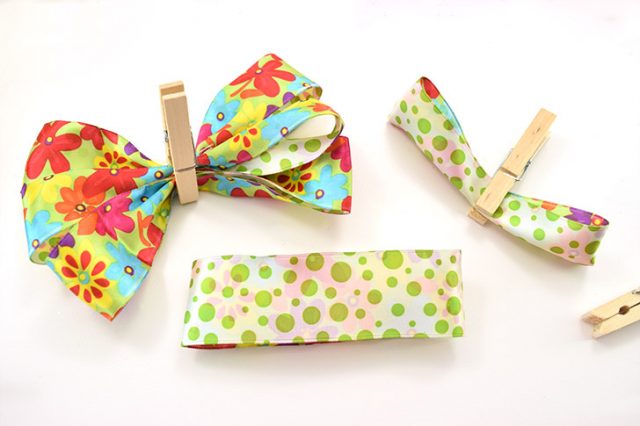 For my pink basket I decided to use $2 worth of ribbon (the entire roll) from Hobby Lobby to make a pretty bow to glue on the front. If you need help making a pretty bow, check this bow making tutorial out.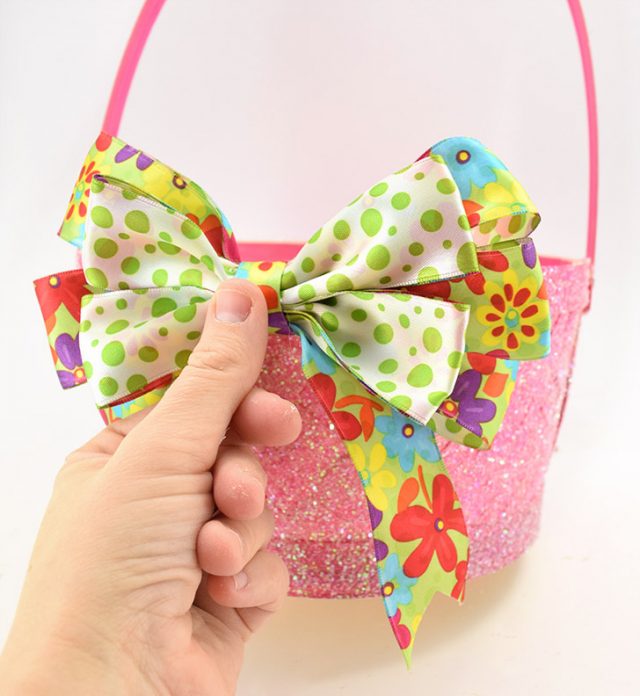 Keep it simple and glue bows to the front center of the basket.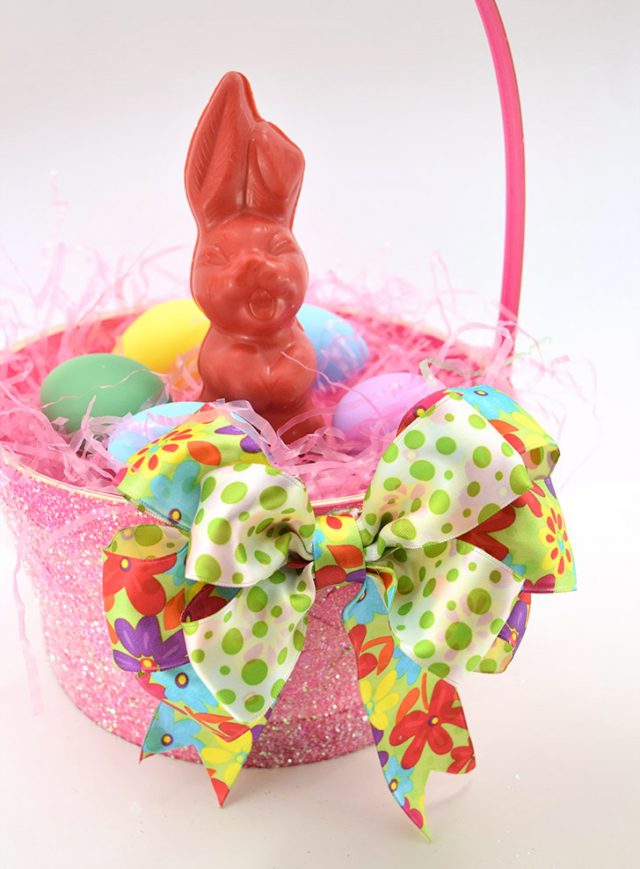 This gal is super pretty and really easy and cost me $4 to make. Not bad, right? I also added a red chocolate bunny from a rainbow set of 7 candy rabbits I molded for Easter right into the center. Cute, right?
p.s. $0.50 cents of artificial grass wasn't quite enough so I shoved a hand towel in the bottom of the basket and put the grass on top. You can't see it and it will save you from having to buy a ton of this grass that will eventually go into the trash, anyway.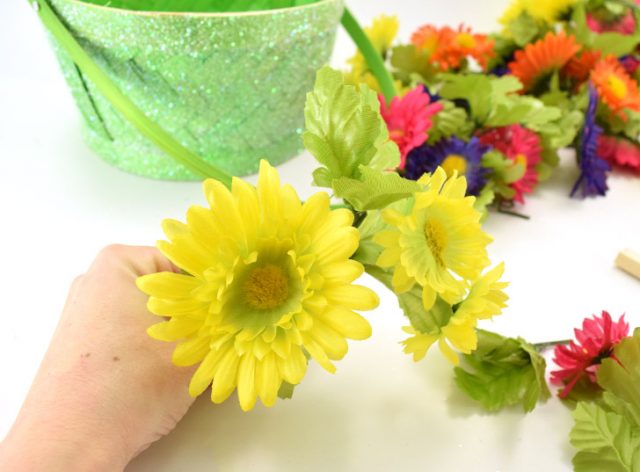 My next basket I wanted to add rainbow-ish ombre effect going down one side of the handle and onto the front. I found a garland for $5 at Hobby Lobby and used about half of it for this project. Snip your garland so that you have clusters of flowers, leaving a few inches worth of stem.
Very carefully glue the stems to your handle to begin and start working down to the basket, itself.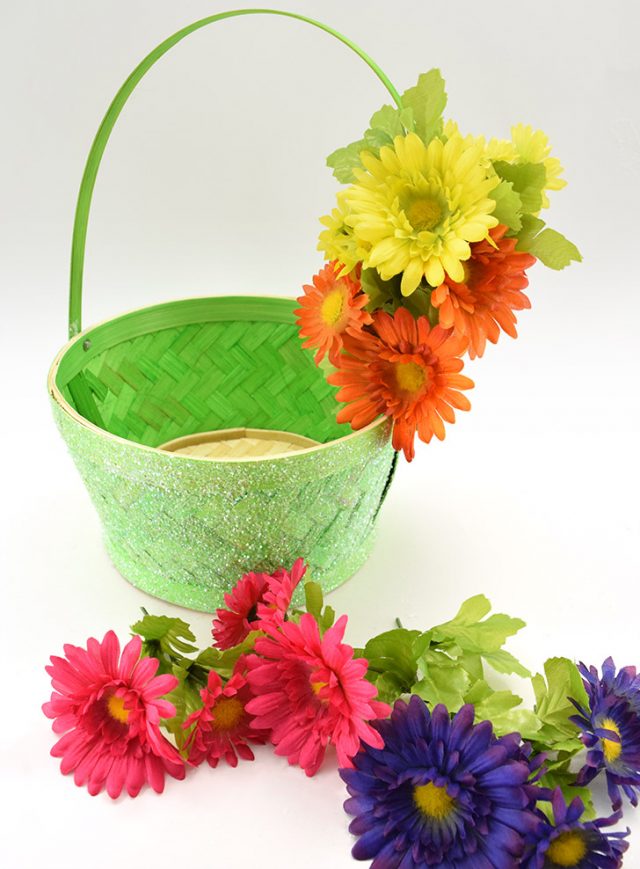 Fill out the flowers as best as you can, and be sure to watch your fingers when things start getting crowded. Hot glue burns are the worst!
After you get the flowers where you want them you can go back in and add some leaves and greenery to separate the flowers and fill the design out better.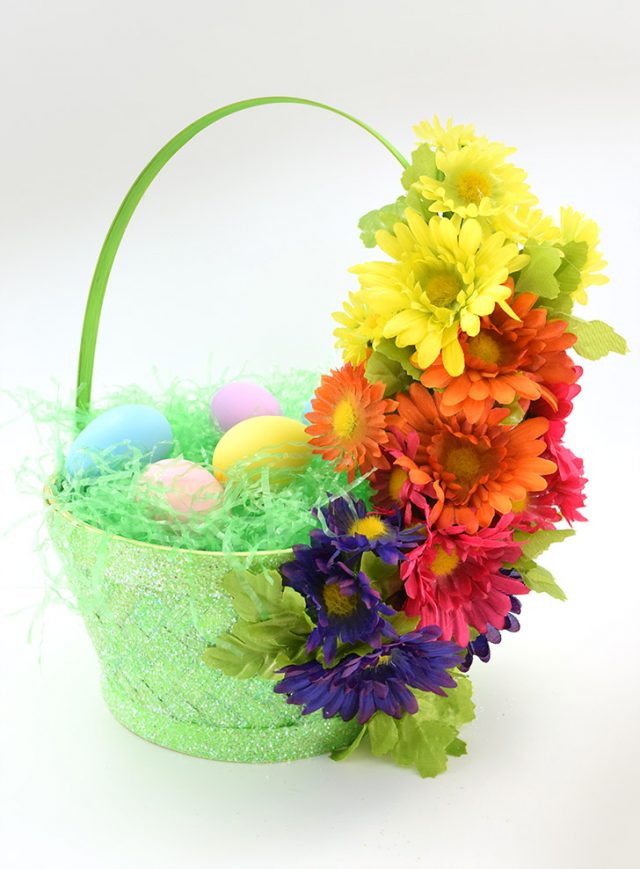 Isn't that pretty? I love both of the baskets but this one is definitely my favorite. I think after Easter it's going to become our new remote basket in the living room 🙂 You can never have too much glitter in your home decor!
At the end of the day I spent $1.50 for the basket, $0.50 for the filler (there's a hand towel to help boost the filler in this basket, too) and $5 for a floral garland I still have half of for another project. Costing $7, I'm really pretty happy with this embellished Easter basket, too!