A Day of Tornado Hell in Oklahoma and How You Can Help.
I have lived in Oklahoma my entire life, so tornadoes are not foreign to me. I have hid in many bathtubs, interior closets and storm shelters over the years, and remember the May 3, 1999 tornado devastation very, very clearly.
This still didn't prepare me for what I experienced today.
My family is safe, but our hearts are breaking.
I was in my son's school pickup line, listening to the radio. I knew that there was some rotation and concern for a tornado in the Newcastle and Moore area, which is roughly 20 miles south of us.
After I buckled my son into his car seat I heard that a tornado had touched down and rapidly grew in size. A deadly tornado.
I heard there was a school leveled in Moore. Make that two schools, maybe more. And there were other buildings and homes demolished, too. The damage was not only worse than that of May 3, 1999, but the worst in tornado history.
My heart sank. I couldn't process the thoughts and information being thrown at me, especially while in a car driving home. I called my husband, who was watching live coverage on the television. He could see the schools flattened. I just wanted to be home.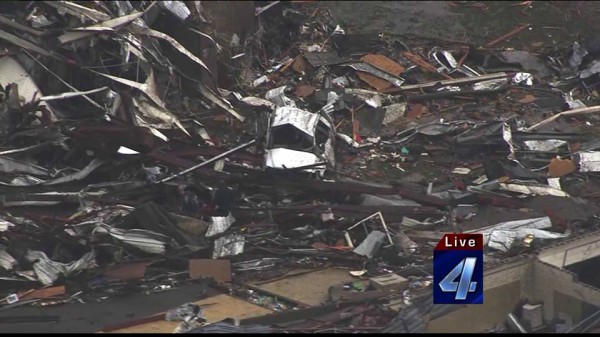 photo credit: KFOR.com
Once I returned home, I was glued to the television the rest of the afternoon and evening. It was hard to look away, but also extremely emotional to watch. Child trapped in elementary schools. People walking around, not knowing where to go because their homes were completely leveled. Newscasters crying on the air from the overwhelming scenes they were witnessing. There wasn't a dry eye between my husband and I.
As of 9:45 p.m. CST tonight, the medical examiner's office has confirmed 51 confirmed deaths and 233 confirmed injuries. This number is expected to grow. Some of these deaths include the children from one of the destroyed elementary schools.
I still haven't processed what has happened today. It was so close to home. My heart breaks for the families affected by this disaster, especially with those parents who lost children. My head, heart and stomach is ill.
Thank you to everyone who has reached out with their concerns and love for me and my family. We are safe. I am thankful that our house is still standing, and our children are safe and sound.
How you can help.
Oklahoma can use your help right now. My friend Kelly Kinkaid posted a list of ways you can:
Donate at Redcross.org or text REDCROSS to 90999
The Salvation Army USA has mobilized a number of emergency relief services in Oklahoma, including Moore, to dispense food, hydration and emotional support to first responders and survivors. Donate online or text STORM to 80888 to contribute $10 to the Salvation Army's relief efforts or make a donation via phone at 1-800-SAL-ARMY.
Disaster Relief of Oklahoma: Donate here: http://www.okdisasterhelp.com/2013/05/disaster-relief-how-to-help/
For pets of loved ones donate to the Central Oklahoma Humane Society: http://www.okhumane.org/
Donate to the Regional Food Bank of Oklahoma : http://www.regionalfoodbank.org/ or text FOOD to 32333
 Please continue to send your thoughts, prayers and love to Oklahoma.