Creamy Pumpkin Soup With Bacon Crumbles
This post is sponsored by REAL SEAL.
I love creating new recipes for the holiday season! My kitchen is my canvas all year long, but when Thanksgiving comes around, I really start to get excited about trying new foods and new ways to make old favorites. When REAL® SEAL asked me to share a delicious Thanksgiving  dish as a part of their Virtual Thanksgiving Dinner Party, I knew I was up for the challenge and that's why I'm bringing you this scrumptious pumpkin soup today, made with REAL® SEAL dairy!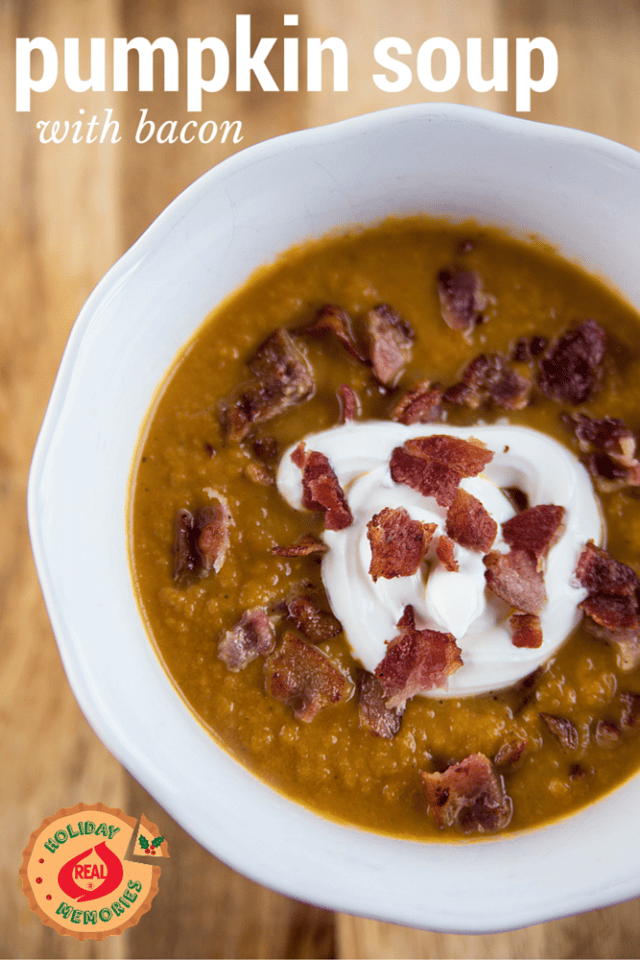 I love having a rapt audience for all of the treats and recipes I create during the holidays. My family and friends are always asking if they can help be my taste-testers in the kitchen and I know I'm going to get honest feedback — especially from my kids! This pumpkin soup has been a total hit with my family and I have a feeling your gang will like it too.
Creamy Pumpkin Soup With Bacon Crumbles
Yield: 5-7 servings
Cook Time: 15-20 minutes
Ingredients:
2 cups chicken broth
2 (15oz) cans of pure pumpkin puree
12 oz milk (any)
1 tbsp brown sugar
1-½ tsp salt
½ tsp freshly-cracked black pepper
½ tsp sage
½ tsp garlic powder
3-4 strips pre-cooked bacon
sour cream (for topping)
Directions:
Heat a large pot over medium-high heat. Stir in chicken broth, pumpkin puree, milk, salt, pepper, sage, garlic powder and brown sugar. Bring to a simmer. Reduce to medium-low and continue simmering for 15-20 minutes, stirring often.
While soup is simmering, fry bacon in a skillet until crispy. Remove, crumble and set to side.
Taste soup and add more salt/pepper if necessary. Serve with bacon crumbles and a dollop of sour cream!
This recipe is warming, filling, and will make for the perfect Thanksgiving leftover lunch the following day — that is, if there ARE any leftovers to be had! My family nearly licked the pot clean when they were finished with this one.