Happy, Healthy Gathering at Nestle
I honestly didn't think I would get to a Nestle event follow-up before my Type A Mom Conference follow-up post, but many of you were dying to know what happened at Nestle, and what I experienced while visiting.  Sorry, it's a little lengthy.
First, let me clarify something.  There was absolutely NO drama at the Nestle event.  All the negativity  and theatrics took place on Twitter, and on Twitter only.  Most of my time in LA was spent oblivious to the controversy.  Yes, I had a handful of Twitter followers unfollow me for simply attending the event, but that still left 10,550 that respected me either way.  Thank you.
TUESDAY.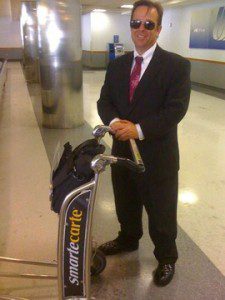 I arrived at LAX around noon PST, and was greeted by a friendly driver from Cool Ride in baggage claim.  He already knew which baggage claim area my luggage would spit out of, which was a relief since LAX is like, big.  He loaded up my things into a nice, clean car and headed for the hotel.  He offered me two routes to the hotel: one straight shot on the highway, or through downtown.  I opted for downtown.  Have I mentioned that I'd never been to California?
We drove past USC, The Staples Center, Disney Music Hall, and a huge Catholic Church. (forgive me, I can't remember the name)  It was awesome being in LA.  I just liked saying it.  "Hey, I'm in LA."  Just sounds cool, right?
Speaking of cool…  When we pulled up to the Langham Huntingon Hotel & Spa, I was blown away by it's beauty.   A bellhop took my luggage from me  while I checked in.  I went up to my room, took a look around, and heard a knock on my door.  There stood a bellhop with my luggage, a Nestle bag, and a huge, empty cardboard box.  The Nestle bag was full of goodies, including a RCA camcorder, and the box was for us to fill during our stay.  It was so nice not having to worry about finding extra room in my tiny suitcase. They had arranged shipping and everything.  Man, I needed that at BlogHer!
By the time I was situated in my room and had all my things unpacked, I realized that I was absolutely starving.  FYI-United Airlines provides NO complimentary snack, so pack some in your purse. I figured my easiest and quickest solution was room service.  FYI-I have never ordered room service before. I picked up the phone & ordered the largest burger, fries & Coke available.  What power!  After consuming (or should I say, shoveling), I had a good 5 hours to kill until the meet & greet, so I did what any mom without kids in LA would do.  I took a 3 hour nap.  It was divine.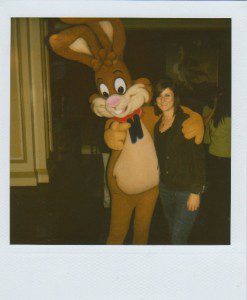 After waking, I freshened up and headed down to the Lobby Lounge for the Nestle meet & greet reception.  I was happy to meet Allison Peltz, who helped organize the event, as well as Nestle team members Becky Chao, Tanuja Singeetham, Bernadette Capulong and Heidi Modarelli-Frank.  I loved the Nestle team right from the get-go.  Smart, genuine ladies.  I also caught up with fellow bloggers @reneejross, @pjmullen, @telling_dad, @ohmommy, @mombloggersclub, @makeandtakes, @thisfullhouse, @busymom, @momtalkradio, @youngmommy, @totally_toni, @1stopmom and more.  We had cocktails and hors d'oeuvres with the Nesquick Bunny, chatted with everyone, and even went back into the hotel kitchen to meet Michael Voltaggio from Top Chef, Season 6!  Weird, huh?  After talking a little too late into the night with some old and new bloggy friends, I called it a night.
WEDNESDAY.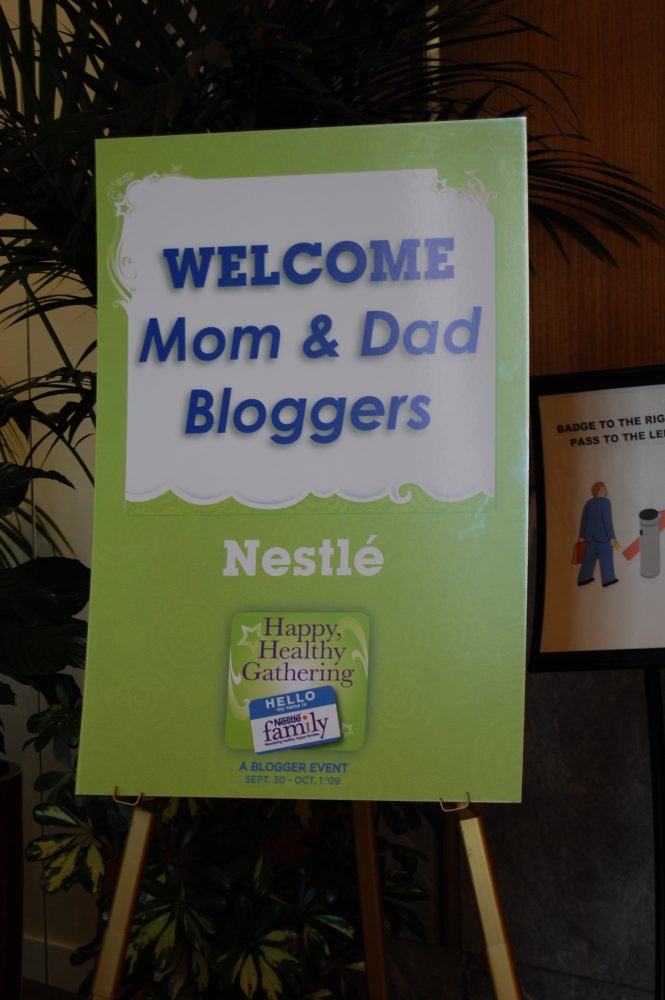 We departed the Langham hotel for Nestle headquarters early Wednesday morning, and upon arrival, we were greeted with a smile and an awesome breakfast!  We were briefed on what the next two days would encompass, and introduced ourselves to the group.  Next, we learned about Nestle's HUGE family of brands, which floored me.  I knew of Skinny Cow, Wonka, and even Stouffers, but was surprised to hear other brands like Jenny Craig, Juicy Juice, Purina, Friskies, and many, many more!  I didn't realize how big of a Nestle consumer I already was, and didn't even know it.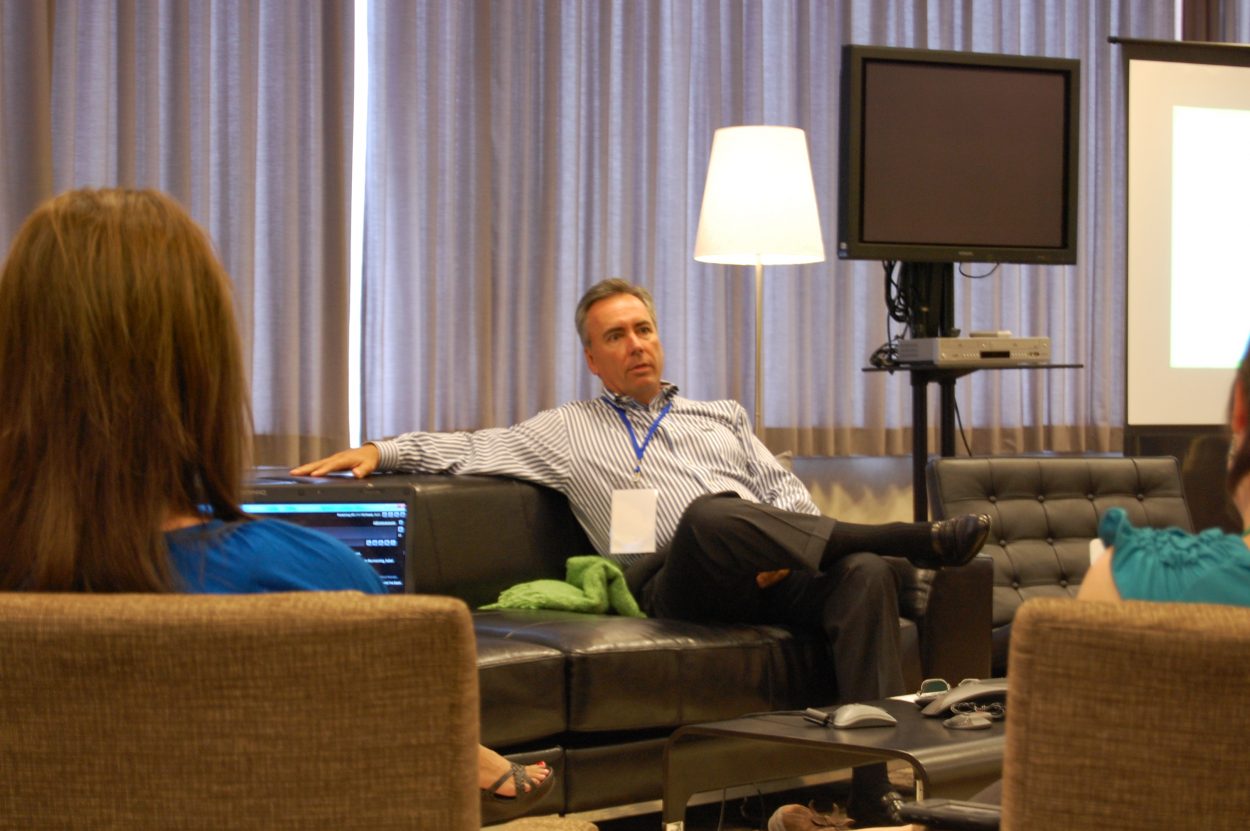 For the next hour or so we met with the Nestle experts, including Nestle USA CEO, Brad Alford.  Right off the bat, @reneejross asked about the boycott.  I can probably speak for everyone in that we were all relieved to get that out right at the beginning.  He explained the history of the controversy and the WHO code.  Ironically, Nestle's first product was baby formula, which was inspired by a baby who could not digest his/her mother's breast milk and needed to eat.  I believe, after speaking to Nestle face-to-face, that their intention in offering formula to new moms all over the world is to help, not hurt.  It is meant for a healthy option when if nursing is not working, or as a supplement.  I can relate to babies not digesting a mother's breast milk, or not being able to provide enough quantity to satisfy a newborn.  Been there, and cried over that. with my own.  Contrary to popular belief, Nestle does encourage and support breastfeeding among their consumers and employees.  There were nursing rooms available in the Nestle headquarters.
sidenote rant: Here's the deal.  Boycott if you'd like, it's your call, but do not harass or try to convert those who do not agree with you.  It is one thing to conduct a mature conversation, but quite another to defame or name call.  It is not effective, at all.
Think about it, should a pro-life advocate boycott all businesses who have pro-choice employees?  What about Christians boycotting businesses run by non-Christians?  We cannot control people's beliefs or choices, so just have peace with your own choice and try to respect those who may have different views, as hard as it may be.

The #nestlefamily hashtag was intended for us, attendees of the Nestle event, but was instead flooded with an whole other agenda.  Again, we each have the right to speak our minds on Twitter and the like, but we, the attendees, were actually speaking to Nestle face-to-face.  We were asking Nestle  your tough questions, and sadly, it didn't seem to matter.  Most were not listening to us, but instead arguing, which still baffles me.
I will never force my opinion on you, and in return, I ask for the same respect.  If you have a question for Nestle, please inquire at @nestlefamily or nestlefamilyinfo@casupport.com.  Thank you.

After a productive, open discussion with the Nestle team members, it was time to visit the "candy lab" downstairs.  The lab had booths set up for Raisinettes & Cranberry Raisinettes, Nestle Crunch, & Wonka candy.  We learned about the health benefits of Cranberries, saw how a Nestle Crunch bar is made (and they just reformulated the recipe with more CRUNCH!), and got to play with the coolest Wonka candy machines ever!  No, I didn't see any Oompa Loompas.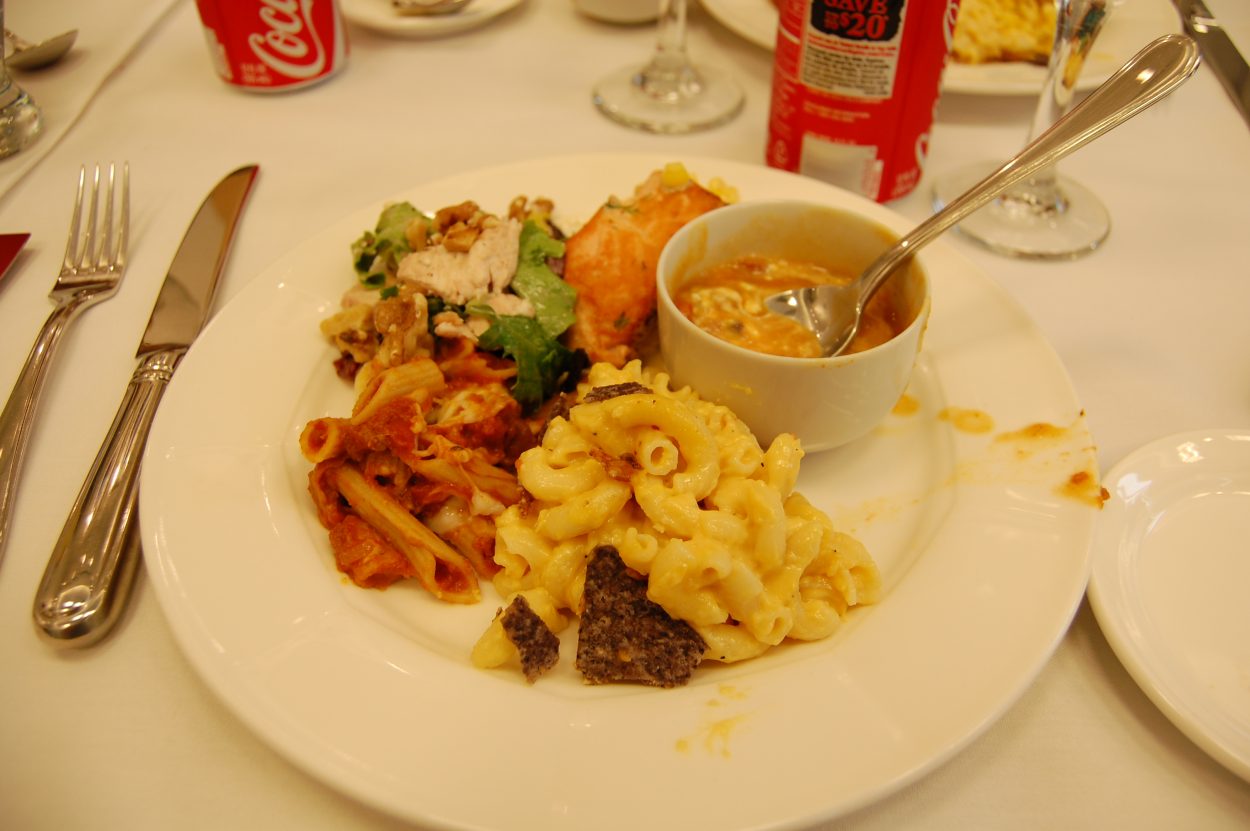 I'm glad I didn't pig out too much at the Nestle Crunch booth because it was time to eat lunch!  The best part of the lunches at Nestle were that we shared them with the test kitchen staff, including chef Christine Garboski.  The soup had Libby's (yes, another Nestle brand) Pumpkin in it, and you would never guess!  The mac-n-cheese was made with pepperjack cheese, which is one of my favs, so I gobbled it up.  Everything I tried was very tasty and easy enough to make at home.  Check out the Nestle Kitchen site for recipe ideas.
After lunch we took a moment  to stretch out and take deep breaths in the Nestle gym.  Yes, they have a full workout gym in their headquarters.  It felt wonderful to stretch out my neck and back, ahhhh…  Then it was on to another discussion group, where we talked nutrition innovation regarding our families.  The Nestle folks really soaked up our input, concerns, and questions.  It was a comfortable, laid back environment, and they didn't take offense when our noses were buried in our laptops.  What can I say?  Bloggers can multi-task.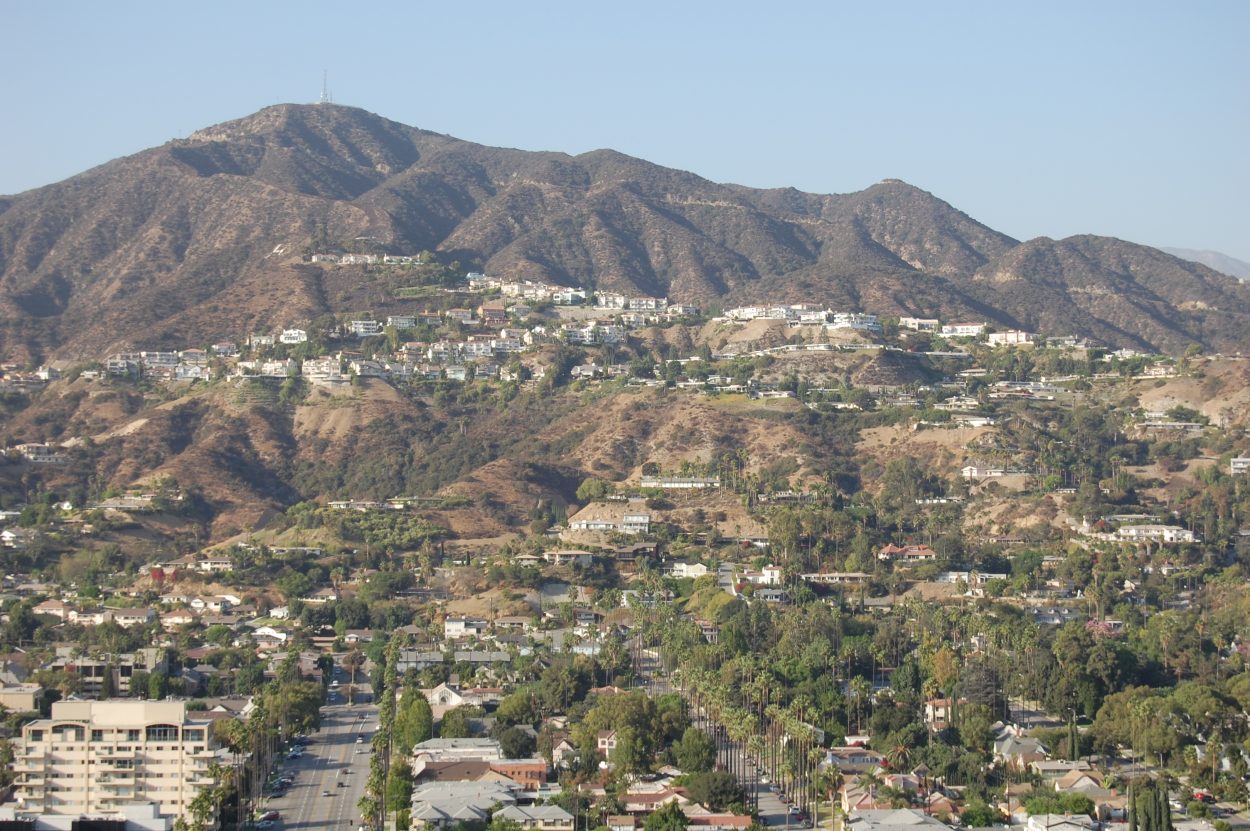 Just when we thought that our bellies were beyond stretched from taste testing sweets, yummy lunch and cappuccinos from the Dolce Gusto machine, it was time for an ice cream social outside!  Knowing that dinner wasn't too far away, and the fact that I have already consumed more than my fair share of Skinny Cow in my lifetime, I opted out of eating any ice cream.  Instead, I enjoyed meaningful conversation and soaked up the amazing view from the balcony of the Nestle building.
It was now time to get ready for our dinner at the Magic Castle!  We all changed clothes, primped and loaded in the bus.  I couldn't get any pics of the Magic Castle because cameras were not allowed, but let me tell you that it was a crazy, fun place to be!  The food was delicious  (I ordered the prime rib) and the magic shows were entertaining and hilarious.  It was one of those experiences that I will probably never get to do again, so I ate it up!
Needless to say, after Wednesday, I was wiped!  I think it took me all but 5 seconds to fall asleep.
THURSDAY.
I was so happy that we had a later start on Thursday.  Did I mention that I was still on east coast time from the Type A Mom Conference???  My schedule was a little screwy, so I needed the extra sleep!  Like Wednesday, we headed over to the Nestle headquarters and had another excellent breakfast prepared by the kitchen team.   After eating we learned about how the various ways Nestle gives back to the community.  They had an expo hall for us to tour, with booths from Jenny Craig, Purina, and more.  After the expo, we had an open discussion on food safety and the relaunch of Toll House Cookie Dough.  FYI-You should never eat raw cookie dough!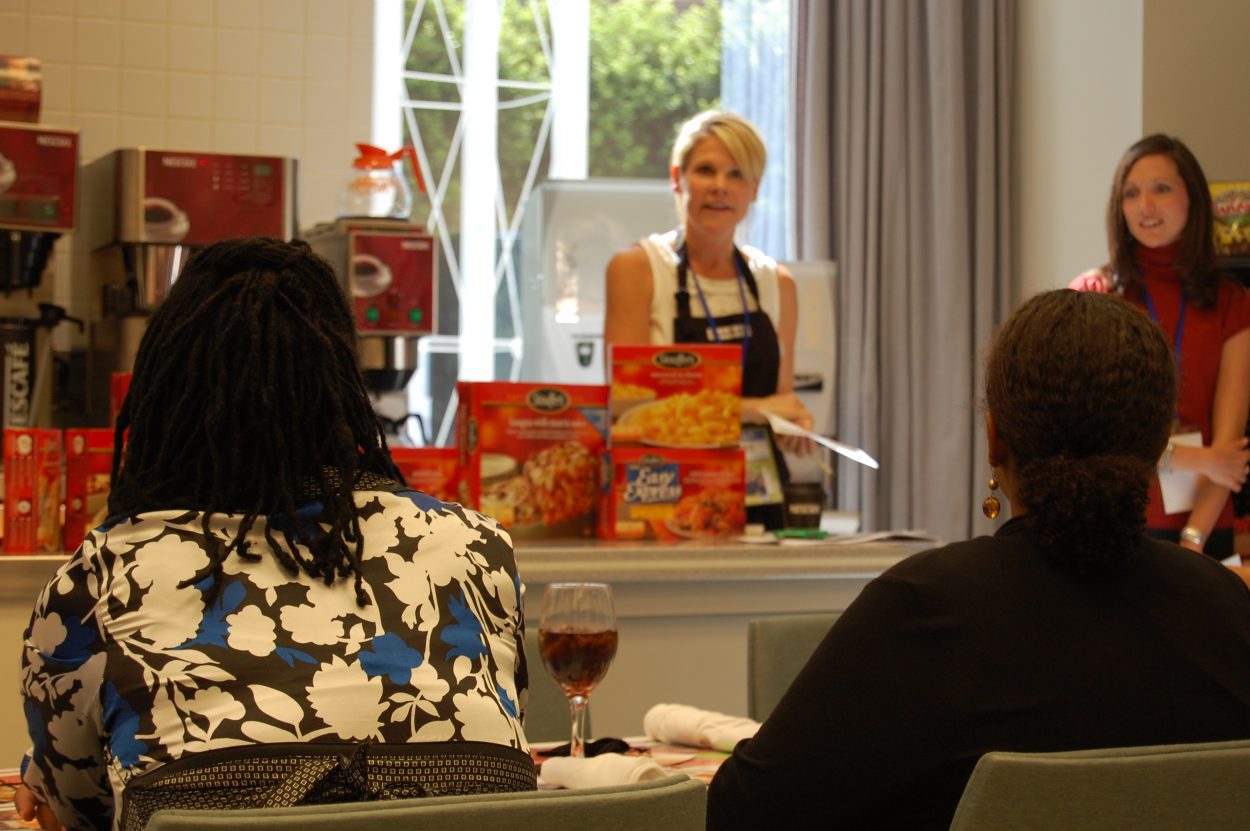 We then ate another yummy lunch that consisted of one of my favorites, Stouffer's lasagna.  We also had some fun table talk topics like "What is the best invention?"  They gave us a fun game  to talk home that include tons of conversation starters for dinnertime at the table.  Stouffer's initiative is bringing families together for dinner, even if it's only a couple days a week.  Makes sense to me, especially since so many of us sit in front of the television instead.
The next part was so much fun!!  We walked into a room that was decorated with Nestle food and candy in Halloween and Christmas themes!  We also learned some great crafts from Marie from makeandtakes.com. (she is so adorable!)  I made a "snowball of doom" using 5 chocolate chip cookies, frosting and nerds.  I have to admit, it was a blast getting messy!  I cannot wait to do the same project with my kids.
The day was winding up, so we had one last open discussion about the event, like things we liked  and disliked about it.  I raised my hand and told them that they did an awesome job.  I honestly had no complaints.  I never felt like I was in one place for too long, and I truly found Nestle  and their brands interesting.  They truly treated us as if we were their guests, and apologized time and time again for the treatment we received on Twitter. (which they didn't have to do)
We ended the day by shopping at the Nestle store (fun!), and then eating at the Twin Palms restaurant.  I ordered the steak and it was AMAZING.  Yum yum.  We ate, laughed, and reflected on our experience.  We were ready to get back home to our families, but also sad to leave one another.  There were hugs, and even tears thanks to @1stopmom.  We all really bonded during this experience, which I am thankful for.  I already miss them all.

For this being my first, real event, I was blown away from the respect we received from Nestle.  They really did value our opinions.  What did they ask for in return?  Absolutely nothing.  Nada.  You got it.  But guess what?  I would work with them again in a heartbeat.  I have already relayed my experiences to other bloggers and real life friends.  I was proud to be a part of this event, and I thank the Nestle team for including me.  You rock!
*DISCLOSURE-Nestle covered all of my travel, meals, and air fare for the Happy, Healthy Gathering event.  I was given Nestle samples and products during my stay as well.  I was not asked for anything in return (i.e. blog posts, tweets, etc.) and wrote this post out of my own free will.*