What is Your Mom Blogger Status?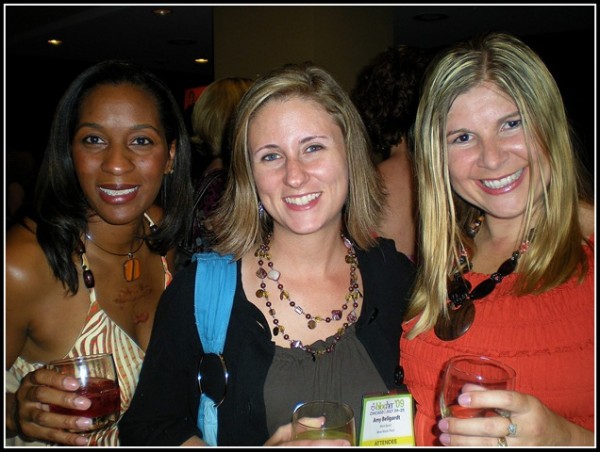 I'm curious.  Has anyone else seen a trend in the SAME mom bloggers who are being handpicked for special events, conference panels, or incredible business opportunities?  With the web overly saturated with so many fabulous mom bloggers, it seems that only a select few are being recognized over and over again.  Why is this happening?  This observation has me intrigued as to how one determines blogger status, and if that method is fair.
I am not a marketing or PR guru, so I do not know or understand the formula for figuring out one's status or influence.  Maybe it is calculated by Twitter followers or subscribers.  Maybe it is based on years of experience, college degrees, or frankly, who you know.  I personally have nothing against the "high status" mom bloggers, and I think it is awesome that they get to share in these experiences.  My only qualm is why do companies and PR firms want to pick the same groups of bloggers?  Would it not be more effective to target a completely different pool of mom bloggers, each time, who have not previously worked with companies A, B, & C, and who do not have current obligations with those companies?  Would it not be smarter to tap into a new circle of bloggers that would soak up a special opportunity, and thus, put their heart into it more than, say, a blogger who has already been to 10 events that year?
Not all mom bloggers care to attend special events, summits or speak at conferences, but for those who do, how do they retrieve such opportunities?  What are the qualifications?  Maybe it is just a matter of speaking up and offering yourself, and if so, who do they approach?  I have spoken to several others who are also intrigued by this observation, and would like to know how to be among the chosen few.  So many of us offer unique talents and skills, and should not be excluded or quarantined because of our "status".
There are companies who get this.  Groups like Whrrl and Game House believe in a blogger's natural instincts (thank you, John Kim, for pointing out mine) and commitment, rather than technorati rating or popularity.  Sure, sponsors are going to look at your online influence and stats, or it wouldn't be a worthwhile investment for them.  I don't fault them for that.  Instead, I would suggest that companies use a more "out of the box" approach when selecting mom bloggers to work with.  To put it simply, get to know us.
I have no idea what my mom blogger status is, and I honestly don't care.  What I do care about is building positive, meaningful relationships, whether it be in friendship or business, and not worrying about what may follow monetarily.  I will not commit to you if I do not believe in your product, service, or cause.  It is nice to be noticed, but it isn't more important than my integrity.  I also, in no way, feel any entitlement to anything, and am discouraged by fellow bloggers who do.  I feel extremely blessed that people even read my posts or care to meet me in person.  Everything else is just icing on the cake.
So, how do we open minds about this issue?  Is there a method or tool we can use to show PR groups and companies that more of us would like, and deserve, to be considered for future projects?  What does it take to be on a special list?  As you can tell, I have many questions.