Yummie Tummie Review
You know that muffin top that moms get after having kids?  Well, considered it smoothed out for good! I promise, I'm not exaggerating when I tell you that  the Yummie Tummie really helps flatten the tummy, and that I  can easily wear it every day.  The Yummie Tummie gives me more confidence and even allows me to wear a smaller pant size.
I first tried out the Tank and Boyfriend at BlogHer '09, and fell in love with both right away.  The only shapewear I had previously worn was Spanx, and it just about suffocated me each time I wore it.  You do not experience discomfort when wearing the Yummie Tummie, and there is no way I would wear it every day if it did!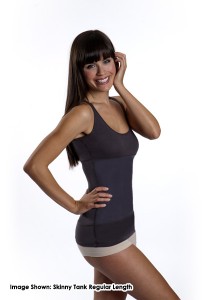 As part of the Yummie Tummie New 2009 Fall Line, the Skinny Tank is a basic tank made from STRETCH cotton, and designed with wider straps and a raised back neckline.  I tested out the Skinny Tank, in white and long, and was impressed with the stomach flab control.  It seemed to flatten me out even more than the other tanks I had tried, but was still uber comfortable.  I believe the $62.00 investment is worth my clothes fitting more appropriately and my confidence being boosted.  I love the Yummie Tummie!
Convinced yet?  If so, run over to Yummie Tummie.com and choose from dozens of different Yummie Tummie styles.  The Yummie Tummie also comes in several sizes, ranging from extra small to extra large.
DISCLOSURE – I was given Yummie Tummie shapewear in return for this review and giveaway.  My reviews and recommendations are always honest and true.