Boho Wine Bottle Vase Centerpiece DIY
I like taking something that would otherwise be trash and turning it into something else. It makes me feel good and less like a big, walking carbon footprint.
Now to be honest, I don't drink wine, but I know a lot of people do. Or at least they do in sitcoms and funny pictures on Pinterest. So I decided to make a sort of boho inspired centerpiece using some wine bottles all fancied up in nothing but white and filled with gorgeous white flowers. A visit to my local florist had me clutching some gorgeous spider mums and a handful of larkspur. I just needed to get home and find or make something pretty enough to display them in!
For this project you will need:
Wine bottles (cleaned with labels removed)
white spray paint
puffy paint or Beads in a Bottle
lace, ribbon, stencils, etc.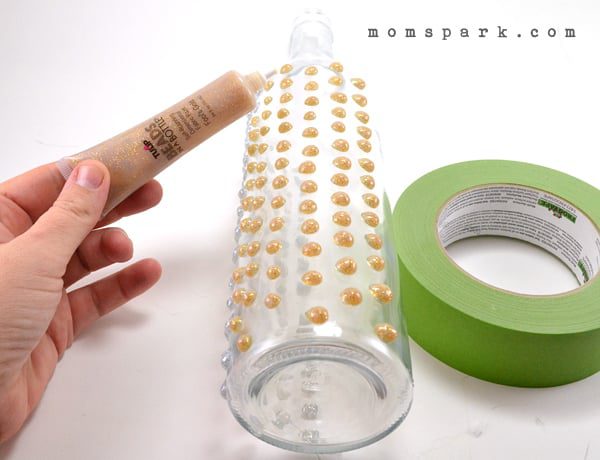 To get a fun, hobnail look from your wine bottle simply draw dots with puffy paint or Beads in a Bottle. I started using puffy paint, but with a dry time of four hours and the fact that I wanted these precious posies in the water long before that, I went the route of beads in a bottle. The puffy paint is considerably cheaper so I'd go that route if I had a bit more time.
Using your preferred paint daub lines of dots in the pattern you choose. Use something (like a roll of tape) to prop the bottle up and keep it from rolling away from you. Allow each pass to dry 4 hours for puffy paint or 30-45 minutes for Beads in a Bottle.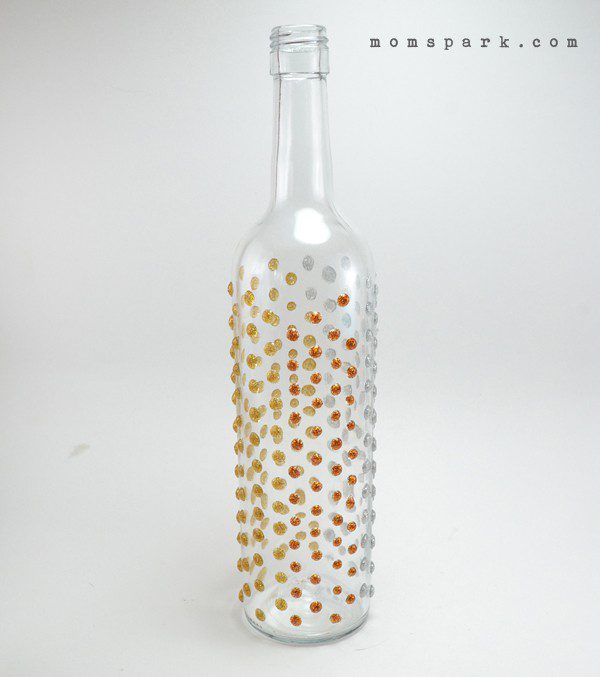 I made my knobs a bit bigger than I had originally planned and use up 2 tubes and about half of a third. I loved the changing colors and had a hard time painting it white!
When you're satisfied that your paint is dry, go over it with a coat of white spray paint.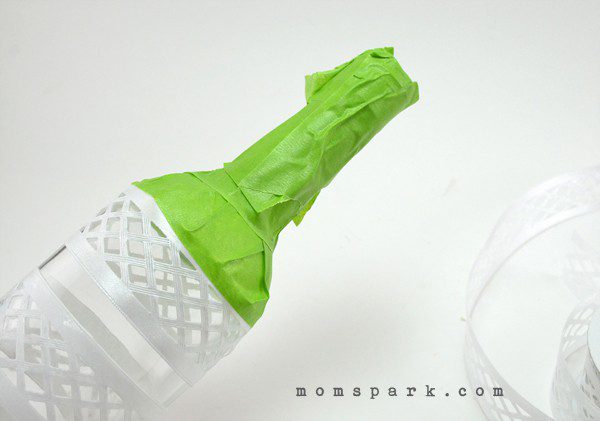 Not having a stencil I was interested in using, I instead busted out some nylon ribbon with these fantastic lattice-like cut outs. To adhere a stencil or other item to use as a stencil, hit the back side with a quick spray of re-positionable spray adhesive and place accordingly.
Tape off anything you don't want painted and get after with spray paint. FYI – though your adhesive is repositionable, get after this pretty quickly. You don't want to come back to it after a few days, paint it and have the ribbon refuse to come off!
Bing, bang, boom. These guys are ready to sit and dry all of the way, so let's hop onto our third and largest wine bottle.
Take a small amount of Mod Podge and place inside of a small, clean container. Take a strip of lace and measure it around your  bottle. Trim so that a small amount overlaps. Place your lace into the glue and wring out the excess. Carefully wrap around your bottle, taking care not to smear the Mod Podge (it will leave visible streaks).
Give the bottle an hour or so to dry and use a razor blade to remove any places where your glue accidentally dried on (I had a good number of finger prints to deal with).
As always, take care when using something this sharp!
Now even though your big wine bottle is bigger inside, the neck isn't. You'll only be able to fit the same amount of flowers into it as the smaller ones.
Since I had some lovely larkspur that I didn't want to go to waste, I placed a mason jar at the back and tossed them in there!
The plan was one mum and one larkspur but they wouldn't all fit in the wine glasses. Oops!
In the end I'm super happy with my wine glass centerpiece. It's pretty and it's understated and I was able to use things I already had on hand to make them. Which increased my floral budget the weensiest bit!