10 Fresh Ways to Wear Grey Outfits This Spring
It is time to pack away the bulky sweaters and heavy boots and prepare your closet for Spring!
For the women on the go or moms with minimal time on their hands to put a lot of thought into the outfit decision-making process each morning, I'm here to help you take the guesswork out of staring slack-jawed into your closet. Not only are these outfits fresh and spring-y, they're also mix-and-matchable. So goodbye, guesswork. Hello, YES WORK!
Here are 10 fresh ways to wear grey outfits this spring:
1. Grey, White + Denim

This look is a simple combination of solid colors, but with a pop of texture with that distressed, light denim jacket. And those grey, suede booties aren't hurting the look either.
2. Grey Jeans and a Lightweight Scarf

This look is casual and muted. I am loving the grey, cuffed skinny jeans, sneakers, and that striped scarf. This is a great look for running errands.
3. Grey Tee and Black, Distressed Jeans

I really like the monochromatic look of this outfit. It's dark colors, but with the fresh top knot and open sandals, it manages to stay bright and airy.
4. Acid Washed Black Jeans with a Grey Open-Front Cardigan

Playing off of the addition of texture to an outfit made of solids, these acid-washed, black jeans and knit, open-front cardigan brings together this casual grey look for spring.
5. Grey Sweatpants Athleisure Look

I am all about comfort and function. This look combines the casual elements of soft, weathered grey sweatpants, gorgeous rose-colored velvet slip on and a put-together finishing piece in that soft pink cotton jacket. Total outfit goals here.
6. Loose Grey Tee + Floral Bomber Jacket

Bomber jackets are all the rage this season. I am loving the loose, casual grey top paired with the bold, floral bomber jacket. This look really screams "SPRING!" to me.
7. Pleated Grey Dress

Nothing screams fresh and fun quite like a soft pleated dress. This grey pleated dress paired with black stilettos is a perfectly put-together outfit for a business meeting or interview.
8. Heather Grey Tee + High-Waisted Jeans

You may think this is the ultimate mom jeans outfit. And you're right. It is. But dang if it doesn't look super comfy, yet stylish.
9. Grey Boho Dress + Cardigan

Here at Mom Spark HQ, we're all about the boho look. This short dress and cardigan combo are giving us major heart eyes.
10. Grey Jumpsuit + Black Leather Jacket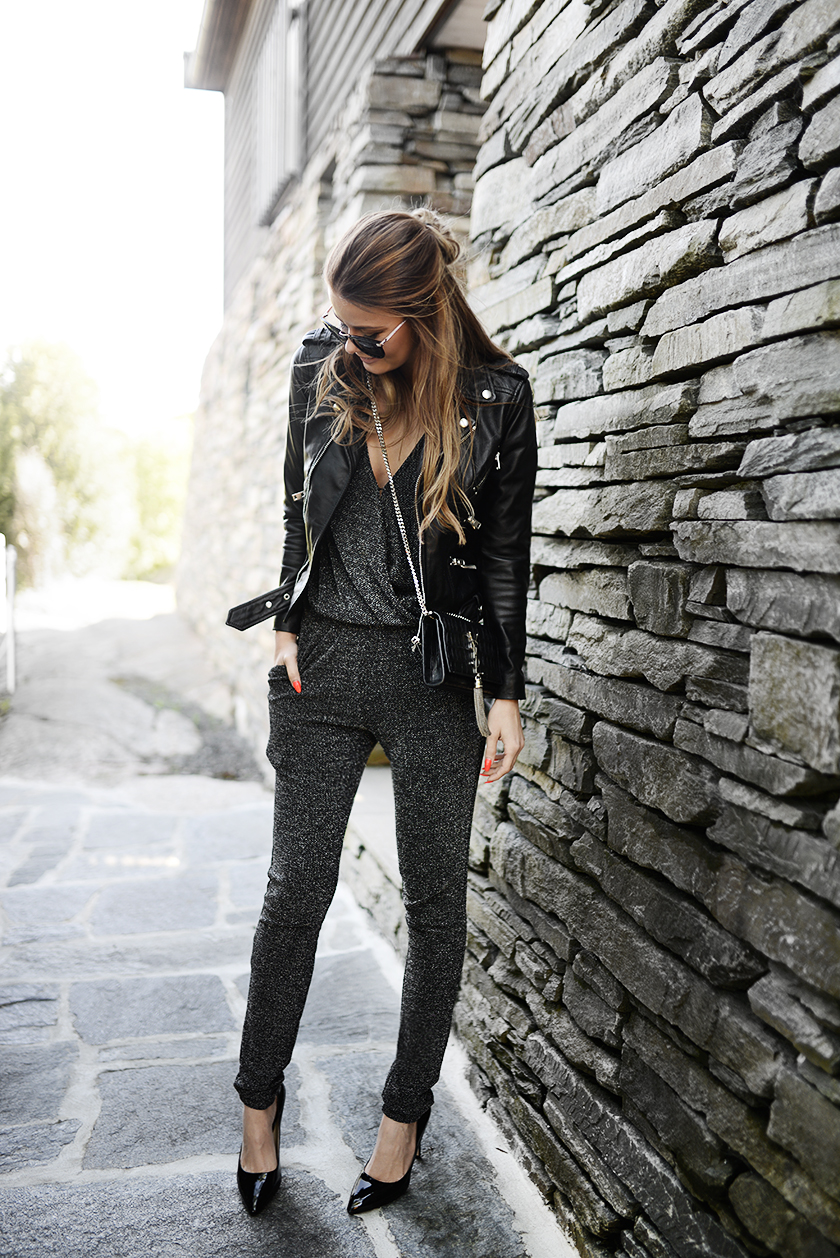 We can all stand to live in a jumpsuit. They are the easiest things to dress up or dress down. This day's grey jumpsuit paired with a rockstar leather jacket and pumps is giving me life.
Comedian behind the YouTube channel, SHUGGILIPPO. Jess toggles between making relatable jokes on the internet and raising a millennial family.