DIY Candy Cane Reindeer
Ah, 'tis the season of joy, happiness and laughter – my favorite time of year!
One of the reasons that I look forward to the holidays is that I get extra time with my family. With several days off of work and school, we are able to slow down a bit, eat together more and create those special memories that only this time of year can bring.
We have several traditions in our home, one of which is making homemade gifts for our friends and family. We truly believe that receiving a present that is made by hand can be the most special to receive. Creating it together is even better!
This year, we decided to create something that we did years ago, but it was so much fun that we're bringing it back – Candy Cane Reindeer.
For this craft you will need:
– Candy canes (any colors you wish)
– Googly eyes
– Pipe cleaners (any colors you wish)
– Red pom poms
– Jingle bells
– Hot glue gun
Simply use the hot glue gun to:
Apply the red pom-

pom and eyes

.

Thread a jingle bell through each end of the pipe cleaner

;

 fold over to secure

.

Style your antlers to your liking

.

Mix it up by using fun candy cane colors, too

. 
Preserve your Candy Cane Reindeer in a reliable Ziploc® brand Container with One Press Seal.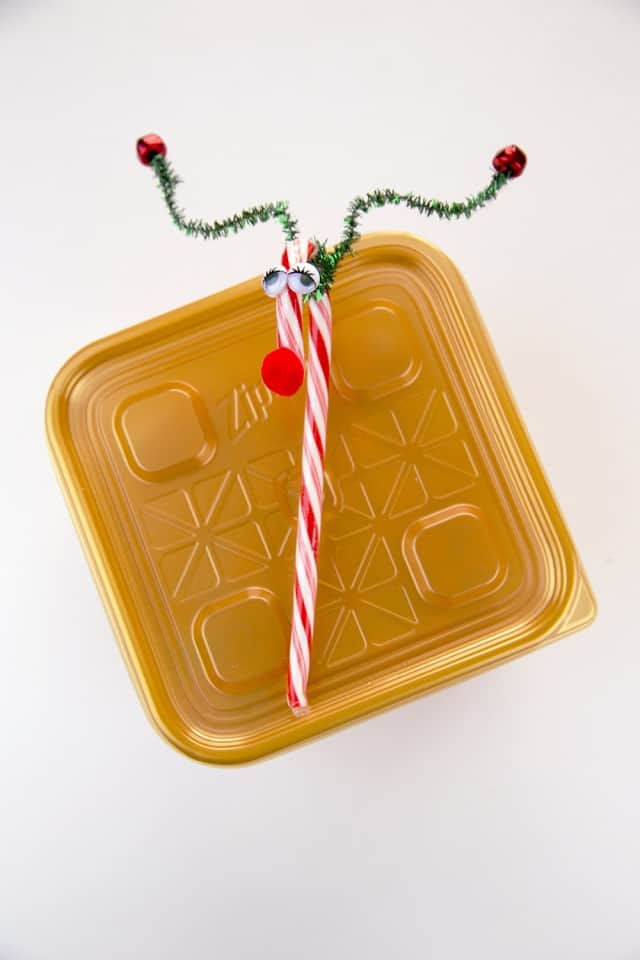 These Ziploc® brand Containers are the perfect way to store and gift your Candy Cane Reindeer!
Aren't these fun? The reindeer can be used to hang on a tree, as a gift topper or just to display with your holiday décor! The kids love making these and they are a fun surprise to the gift recipient.
Since we like to craft at home this time of year, we must keep our supplies very organized. Ziploc® brand Containers with One Press Seal help us keep jingle bells from rolling around the floor and googly eyes from getting lost in the carpet. They are even available in fun holiday-inspired – red, green, blue, gold!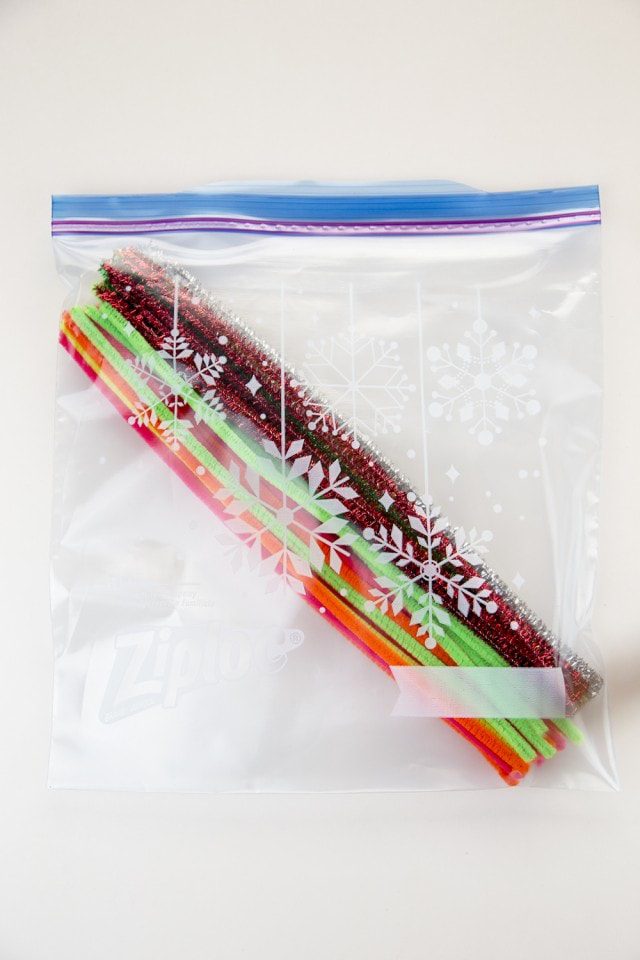 We like to use the Ziploc® brand Storage Bags in the gallon size for storing the pipe cleaners so that they are well-protected. The Easy Open Tabs make it so easy for me and my kiddos to grip, open and close!
Ziploc® brand Containers with One Press Seal are perfect for storing smaller pieces – googly eyes, jingle bells and pom-poms – because the lids are easy to remove while crafting.
Since the Ziploc® brand Limited Edition Holiday Collection styles are so special and festive, you can use these products to gift goodies as well. Pack Ziploc containers® brand Containers or bags with holiday cookies, snack mixes and sweet breads, then gift to a neighbor, teacher, friend or family member. You could even top them with a candy cane reindeer!
Get prepared for the holiday season by picking up some Ziploc containers® brand Containers and bags the next time you shop!
Ziploc® Brand Chaos-Free Holiday Sweepstakes
Ziploc® brand is making our holidays easier this year by giving away one $10,000 cash prize and a variety of instant prizes for meal prep, cleanup and gifts.
Learn more by visiting holiday.ziploc.com. Sweepstakes ends December 31, 2015.
This post is sponsored by Ziploc.