Grilled Nutella and Cream Cheese Sandwich
Sometimes you just have to pause and ask…why have we always done this one thing the same way year after year, decade after decade?  Why do we slather two pieces of white bread with butter, throw a couple slices of processed "cheese" stuff between and fry them up to a golden brown, cut 'em into triangles, slap 'em on a plate and call that dinner?
Not that there is ANYTHING wrong with that. At all. Because at times, that just hits the comfort-food happy place.
But have you ever wondered if there was anything ELSE out there to be enjoyed between two gloriously crispy, salty perfectly browned pieces of bread…something to impress the guests but in ten minutes, not hours –  because WHO has that kind of time anymore and no WONDER mom made grilled cheese on cheap white bread and heated soup from a can and NOW I get it and wait where were we…
Oh yes, gourmet grilled cheese. It can happen with ease and is sure to please – especially the cook with no time to spare. [That's you.]
How about cocoa almond spread [or nutella] and cream cheese, flecked with sea salt on multigrain, toasted in sweet cream butter in a cast iron skillet: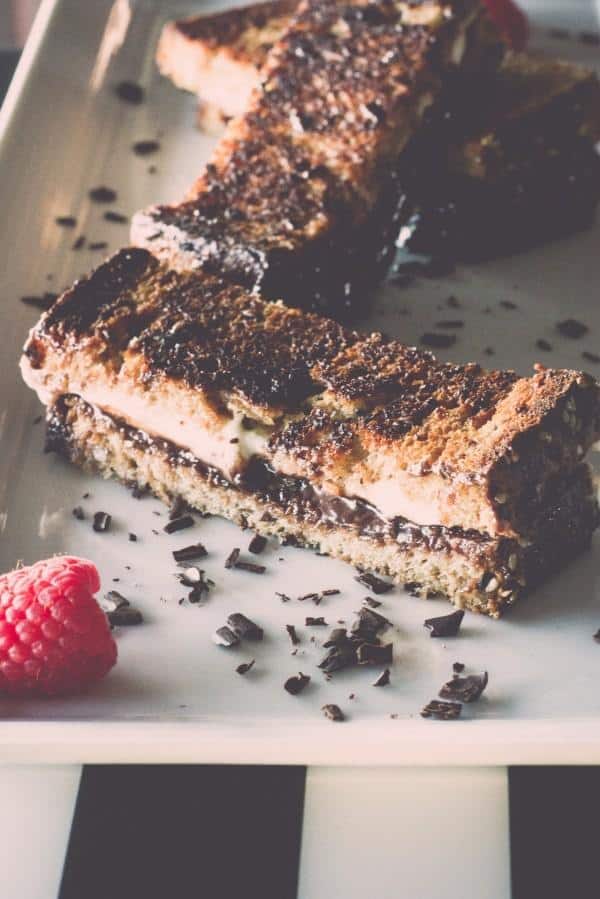 This was assembled, cooked and plated in five minutes flat.
Yeah, that just happened.
Change the status quo a little, loves. The results will bring smiles to your table, and may even start a whole new tradition. 🙂