Chicken Pot Pie with Puff Pastry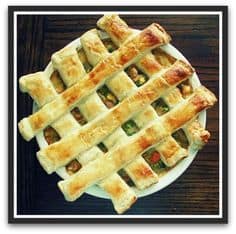 My recipe for Chicken Pot Pie with Puff Pastry is the perfect balance of tastiness and time saving. Utilizing a roaster chicken saves you time without losing any flavor. If you are on a tight budget, you can always cook a whole chicken at home, or even used canned chicken to save a dollar or two.
For a delicious twist: add a teaspoon of curry powder.
*Note: This recipe makes two pies. This is a  great recipe to serve one pie for dinner and freeze one for later.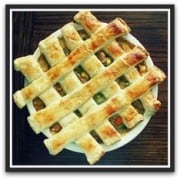 Chicken Pot Pie with Puff Pastry
Yield: Makes two pies - Serves 8-12
Ingredients:
2 sheets puff pastry, defrosted.
2 cans cream of chicken soup
1 can cream of celery soup
8 oz container sour cream
Hungarian paprika, to taste (I usually add about 1 tsp or more)
1 bag mixed veggies (Corn, peas and carrots. A small bag of pearl onions would also be great.)
1 roaster chicken, pieces of meat removed and set aside
Directions:
1. Cut each puff pastry into strips, and make into two lattices. Brush with an egg wash and bake @ approx. 405-f degrees until browned. Let cool on the pan.
2. Add cream of chicken soup and cream of celery. Add sour cream and Hungarian paprika to taste. Mix with frozen veggies. Add roasted chicken and mix. Pour into two pie plates, or a 9"x13" pan. Cook until heated through at approx. 350-f degrees, about 30 minutes.
3. Once done, add your cooled puff pastry to the top and serve.