Olive Garden Zuppa Toscana Soup Copycat Recipe
As Summer is beginning to wind down, the flavors of fall are beginning to creep in. If a bowl of soup and bread sound like they would hit the spot, try this copycat recipe for Zuppa Toscana. It is a thin cream soup, with potatoes, spinach and sausage to liven things up.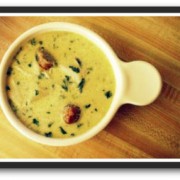 Olive Garden Zuppa Toscana
Ingredients:
1 lb Italian sausage (I recommend a spicy or sweet variety)
2 large russet baking potatoes, peeled, sliced in half,and then in 1/4 inch slices*
1 large onion, diced
1/2 can bacon bits
2 cloves garlic, minced
1/2 pkg frozen chopped spinach, rinsed and squeezed of excess liquid
3 cups chicken stock
1 to 2 cups water
1 cup heavy whipping cream
Directions:
1. Cook sausage in a 300°F oven for approximately 30 minutes. Alternatively, cook in a skillet. Drain sausages on paper towels and cut into slices.
3. Place onions, potatoes, chicken broth, water, garlic in pot, and cook on medium heat until potatoes are done. Add sausage. Salt and pepper to taste. Simmer for another 10 minutes. When potatoes are tender, mash some of the slices with a fork to thicken soup slightly.
4. Turn to low heat. Add spinach and cream. Heat through. Sprinkle with bacon and serve.
*You can use up leftover baked potatoes by peeling potatoes cold, cutting them into slices and adding at the end of the recipe and heating through. Set aside one cold potato and mash with a fork to add to the soup when specified in the recipe.