The Easiest Strawberry Fudge Recipe
Valentine's Day is coming up next weekend – do you have anything fun planned?
Whatever fun activities you have for this romantic day, make sure that they include this delicious Strawberry Fudge!
Recipe below. Happy Valentine's Day!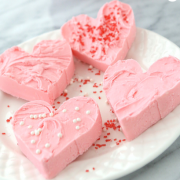 The Easiest Strawberry Fudge Recipe
Yield: 8 servings
Prep Time: 10 minutes
Cook Time: 30 minutes
Ingredients:
1 (16 ounce) container strawberry frosting
1 (12-ounce) package white chocolate chips
Sprinkles
Directions:
1. Spray a 9- x 9-inch baking pan with cooking spray.
2. Melt chocolate chips over a double broiler or in the microwave. If you're cooking in the microwave, cook on HIGH 10 seconds and stir; continue cooking at 10-second intervals until all of the white chocolate is melted. Stir in strawberry frosting until combined. Spread mixture evenly into prepared baking pan. Cover and chill in the refrigerator 30 minutes or until set. Using a heart cookie cutter cut out strawberry fudge shapes and place on a serving plate. Decorate, if desired, and serve. Store in the refrigerator for up to 4 days.
Pin it below!