10 Mouth-Watering Skewers and Kabobs for the Grill
Summertime is perfect for grilling.
What better way to get the best out of your backyard gatherings than to switch up the grilled goodies from burgers and hot dogs to a skewer or kabob with a flavorful twist. Plus? You get to carry around your food on a stick. Food on a stick is always a delicious idea. Hello popsicles and cake pops. We're looking at you.
1. Honey Soy Chicken Kabobs
These honey soy chicken kabobs are perfect for summer grilling. A little bit tangy and a little bit sweet.
2. Steakhouse Kabobs
A classic steak never looked so good. These steakhouse kabobs are savory and mouth-watering, to say the least.
3. Lemon Shrimp Kabobs
Take me seaside with these zesty lemon shrimp kabobs.
4. Spiced Salmon Kabobs
Sometimes a skewer can be simple and decadent. Much like these spiced salmon kabobs.
5. Pork Tenderloin Satay
Paired with grilled veggies and rice, this pork tenderloin satay is simple and insatiable.
6. Spiced Sweet Potato and Bacon Skewers
I'd wake up early in the morning to make these spiced sweet potato and bacon skewers for breakfast. Who's with me?
7. Fajita Chicken Kabobs
Juicy and spicy, these fajita chicken kabobs are an easy alternative for Taco Tuesday.
8. Beer and Honey BBQ Chicken Skewers
Nothing screams "backyard bbq" quite like these beer and honey bbq chicken skewers.
9. Mushroom Skewers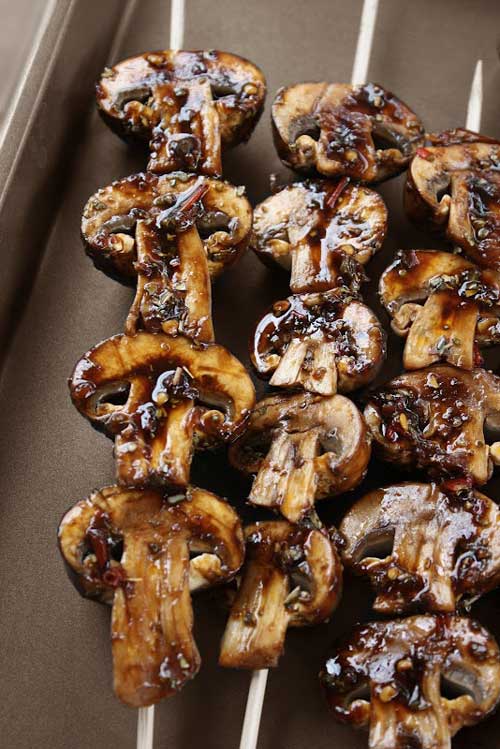 A revamp on the classic grilled veggie skewers, these mushroom skewers bring a rich depth to the typical lightness of a veggie on the grill.
10. Beef Teriyaki Skewers
The Asian flavor spin of these beef teriyaki skewers makes perfectly, drool-worthy sense.