DIY Christmas Card Displays!
My first cards of the season have started arriving in the mail and this year I'm looking for some new inspiration on how to display them. For the last few years, I've hung them on a simple bit of baker's twine, suspended between my kitchen & living room, but maybe I'll spice things up a little for 2011. What do you think? Here are a few cute ideas I've had my eye on: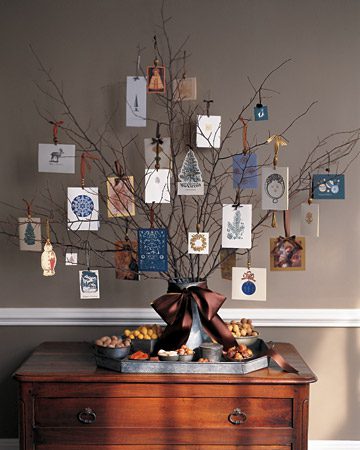 01. A sweet & classic Christmas Card tree. So simple to make!
02. Pretty cards hung on a hall mirror, perhaps with vintage tinsel. Lovely!
03. This stunning Christmas card wreath could definitely be used throughout the year for other occasions.
04. Cute red ribbon design for the back of a door. Would be cute on a closet, or even bedroom doors down a hallway.
05. Another great display using clothespins. Pretty!
I'm learning toward that last one for my hallway. I just removed an ugly wooden banister, but the remaining staircase edge could use some prettying up! Do you keep cards from previous years? I like to cut up old ones for new gift tags — a little trick my mom taught me!
What do you do with all of your Christmas cards, folks?