Cranberry Apple Holiday Rice Recipe
One of the things that I've learned from traveling is how different rice can be around the world, and how important it is to use the right rice for the right recipes. 
I personally love all forms of rice, but there really is a difference between brown rice, basmati rice, wild rice, sushi rice…the rice list goes on and on! So many delicious options.
Recently, Success® Rice asked me to create a new recipe using Success® Basmati Rice, which was a very exciting ask for me because I love creating new flavors with side staples like rice.
I decided to put together this yummy cranberry apple rice pilaf recipe, which is the perfect side dish to any holiday meal!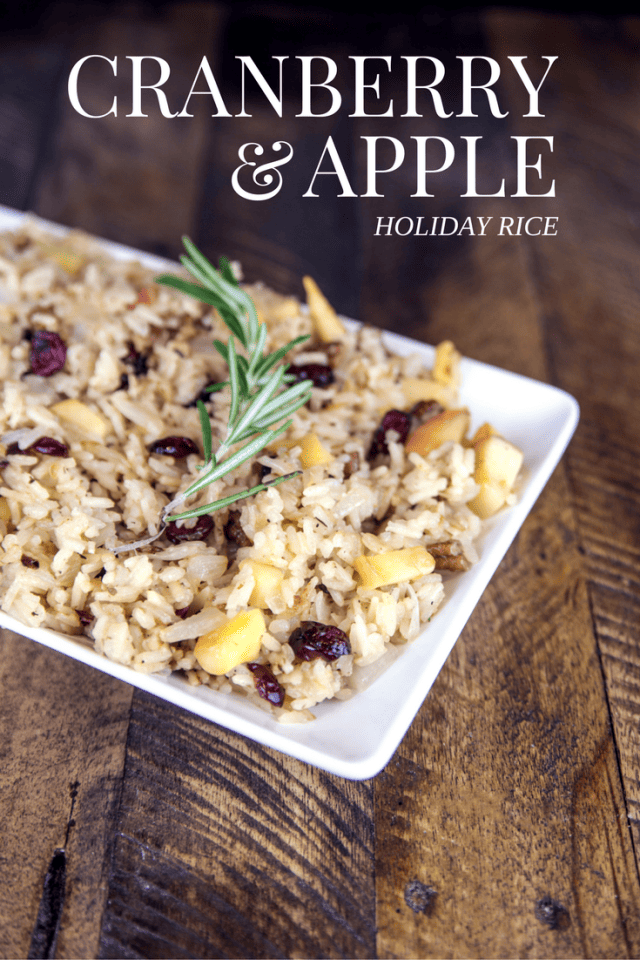 See how to make it below!
Cranberry Apple Holiday Rice Recipe
Yield: 6-8 servings
Prep Time: 10 minutes
Cook Time: 18-20 minutes
Ingredients:
1 cup Success® Basmati Rice
1 1/2 cups chicken broth
1 1/2 cups apple juice
1 tbsp dijon mustard
3 tbsp butter
1/4 tsp oregano, thyme, pepper
1/2 tsp parsley, salt
1 bay leaf
1 medium onion, chopped
1 honeycrisp apple, chopped
3 garlic cloves, minced
1/2 cup dried cranberries
1/2 pecans, chopped
1 tsp apple cider vinegar
optional: fresh rosemary, sage and/or thyme for garnish
Directions:
Add broth, apple juice, 1 tbsp butter, all spices (including bay leaf) to a large skillet. Bring to boil.
Once boiling, add Success® Basmati Rice, cover, then reduce to a simmer for 18 minutes or until rice is fully absorbed. Remove rice from skillet and set aside.
Use empty skillet to melt 2 tbsp of butter over medium heat, then add onions and apples. Saute until onions are translucent, around 5 minutes. Add garlic and saute for another minute.
Add rice back to the skillet, as well as the cranberries, pecans and apple vinegar. Combine mixtures and heat through. Garnish with fresh herbs.
I love using Success Basmati Rice because it's the only boil-in-bag Basmati rice available. The distinctive fragrance, subtle nutty flavor, and fluffy texture is perfect for Asian, Middle Eastern, or traditional rice dishes. As you can see here, the flavor of Basmati rice blends perfectly with holiday fruits as well, like cranberries and apples.
The BPA-free boil-in-bag means no measure, no mess, and the rice is done in ten minutes. Seriously, ten minutes! Plus it's gluten-free, vegetarian, and non-GMO, so it works great for guests or potluck dishes.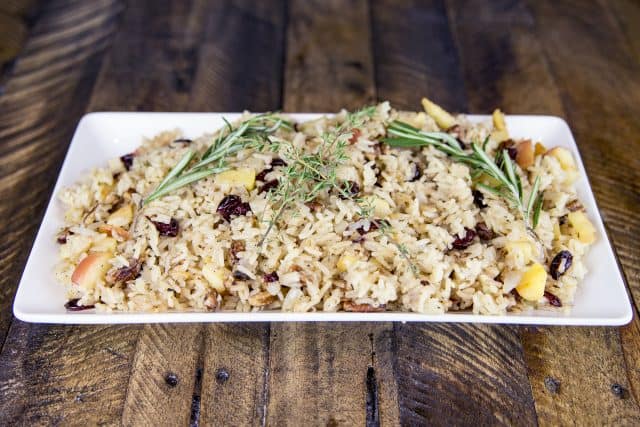 Celebrate the holidays with this delicious recipe using Success® Basmati Rice! In addition, search for hundreds of recipe ideas, special offers and more, join the Riceipe Club®.
This is a sponsored post written by me on behalf of Success® Rice.