McDonald's Shamrock Shake Copycat Recipe
It's that time of year again…the season of the Shamrock Shake. If you have never heard of a Shamrock Shake, about this time of year McDonald's offers a minty ice cream shake. If you would like to enjoy this treat year round, fear not because She Knows has a simple and tasty recipe that I slightly adapted to make a delicious shake. If you would like to make it more authentic to McDonald's, top with whipped cream and one maraschino cherry. Enjoy!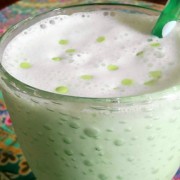 Shamrock Shake Copycat
Yield: 2-3 servings
Prep Time: 5 minutes
Total Time: 5 minutes
Ingredients:
1 pint (2 cups) vanilla ice cream
3/4 cup milk
1/2 teaspoon Mint Extract
1/4 teaspoon Green Food Color
Whipped cream and green sprinkles (optional)
Directions:
1. Place ice cream, milk, mint extract and green food color in blender; cover. Blend on high speed until smooth.
2. Pour into glasses. Top with whipped cream and sprinkles, if desired. Serve immediately.