Peppermint Snowflake Dip
'Tis the season to be jolly and have some delicious Peppermint Snowflake Dip with cookies!
Check out the recipe below and Happy Holidays!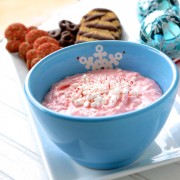 Yield: 2 cups
Prep Time: 15 minutes
Cook Time: Chill: at least 1 hour
Ingredients:
8 ounces light cream cheese
1/2 cup powdered sugar
1/4 teaspoon peppermint extract
1 cup crushed peppermint
4 ounces light whipped dairy topping (such as Cool Whip)
Assorted cookies, covered pretzels
Directions:
1. Beat the cream cheese until smooth, about 1 minute. Add the sugar and peppermint
extract and beat 30 seconds or until smooth and combined. Add the whipped dairy
topping; beat until combined, about 1 minute. Fold in the crushed peppermint. Transfer
dip to a serving bowl and chill until ready to serve. Serve with assorted cookies or
chocolate covered pretzels.
Testing notes
I used light cream cheese and light cool whip and they worked great but regular can be
used.
Dip can be stored in an airtight container for up to 1 week in the refrigerator.