Sweet Potato Chicken Hash Recipe
This post is brought to you courtesy of your friends at NatureRaised Farms® & Alexia® but all the opinions and content are mine.
One of my favorite places to shop is Target. I mean, who doesn't love to shop there? Of course, the only problem is that I tend to pick up more than what I came in for. 🙂
Since my job is awesome cool, I recently had an assignment to go my favorite store, Target, to pick up some products for a recipe. I was totally into this assignment.
So, I headed to my local Target, grabbed a red shopping cart, then headed to grab my first item – these delicious Alexia® Sweet Potato Fries. Oh yeah.
Next up, NatureRaised Farms® Chicken Strips!
With Target's Cartwheel app, I was able to save 15% on these products, too.
I quickly wrapped up at Target (I may have picked up a few other things during my shop because it's TARGET), got home and then needed to figure out a cool recipe to make with these two yummy products.
What better way to combine chicken and sweet potato fries than a hash? So, that is exactly what I did!
Sweet Potato Chicken Hash
ingredients:
1 tbsp olive oil
1 medium onion, chopped
10 ounces Alexia Sweet Potato Fries, chopped
3/4 tsp dried thyme
1/2 teaspoon garlic powder
1/4 teaspoon paprika
10 oz NatureRaised Frozen Chicken
optional: chopped chives for garnish
directions:
Heat skillet over medium heat with oil olive and onions until onions are translucent.
Add sweet potato fries, all spices and 2-3 tbsp water. Cover skillet and let cook for 3-5 minutes or until potatoes are soft.
Add chicken and cook until chicken starts to brown and is heated through. Top with fresh chopped herbs!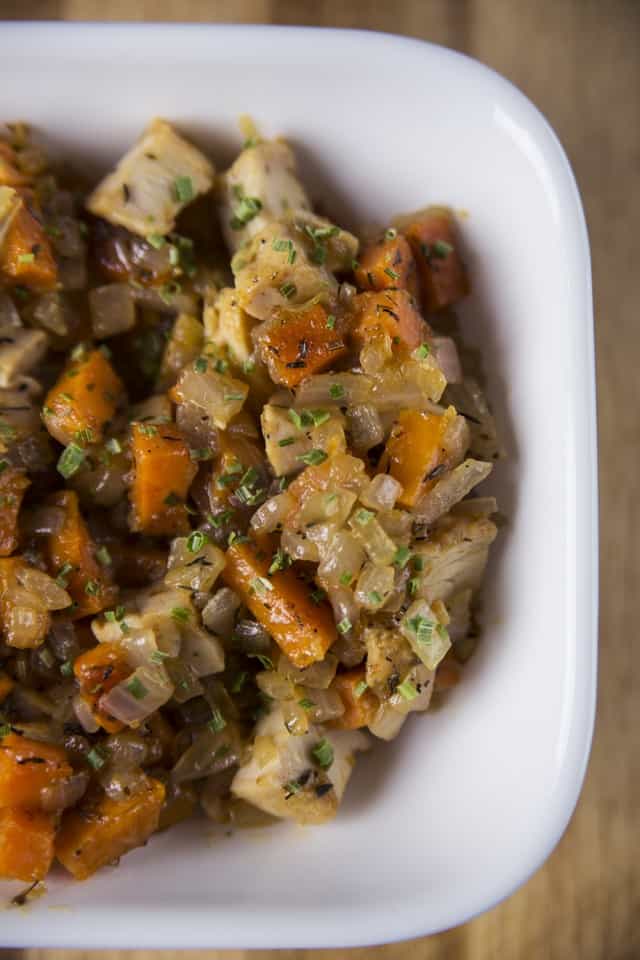 Yum!
Want to make your own recipe creation with Alexia® and NatureRaised Farms®, too? Pick them up on your next trip to Target! Also, make sure you use the Cartwheel App to save 15%, too!
This is a sponsored conversation written by me on behalf of NatureRaised® Farms® and Alexia®. The opinions and text are all mine.