Best BBQ Ribs Ever
You know summer is officially here when you start firing up the grill for ribs! Today we have a delicious recipe that you are sure to love.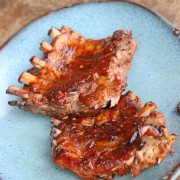 Best BBQ Ribs Ever
Yield: 6 servings
Prep Time: 10 minutes
Cook Time: 4 hours
Total Time: 4 hours, 10 minutes
Ingredients:
3 pounds baby back ribs, trimmed
Barbecue seasoning, salt and ground black pepper, to taste
1/2 cup water
1/2 onion, sliced
1 clove garlic, minced
11/2 cups barbeque sauce
Directions:
Season ribs with your favorite barbecue seasoning, salt and pepper. Pour water into slow cooker. Layer the ribs into the slow cooker. Sprinkle onion and garlic over the top. Cook on HIGH for 4 hours or LOW for 8 hours.
Preheat grill to medium heat.
Transfer ribs to large platter. Discard onion and garlic, if desired. Coat ribs with barbeque sauce. Grill 5 to 7 minutes per side or until grill marks appear, coating with barbecue sauce. Serve with remaining barbecue sauce.
Note: I used Kraft BBQ sauce