DIY Coffee Flavored Stirring Spoons
There are so many things that I love about the holiday season, but my favorite part of it all is making gifts for my loved ones.
While I know that the holidays aren't just about the gifts, they are about thanking those who mean the most to you. This is why I love putting a little emotion and heart in the gifts I create.
This year, I wanted to put together a thoughtful gift that just about anyone could enjoy and that pairs nicely with my one of my favorite coffee brands – Dunkin' Donuts.
Right now, Dunkin' Donuts has seasonal flavors, like Pumpkin Spice and White Chocolate Peppermint, in stores, so I was inspired to create some sweet stirring spoons that taste like the holidays!
These flavored spoons melt as they are stirred in hot coffee, releasing even more delicious flavor with every sip! It's coffee-drinking weather outside, so let's make it even more special.
sample ingredients:
(any of these combinations will work)
coating:
milk chocolate melts
white chocolate melts
caramel melts
topping:
peppermint candy pieces
chocolate mint candy pieces
cinnamon chips
white chocolate chips
toffee pieces
coarse sea salt
Heat chocolate (milk or white) or caramel melts in a small bowl in the microwave 30 seconds, stir, then another 10-30 seconds until melted. Do not overcook, as the chocolate and caramel can seize easily.
Dip the spoon in the chocolate/caramel to coat completely. When coated, lay on wax paper top with candies or salt!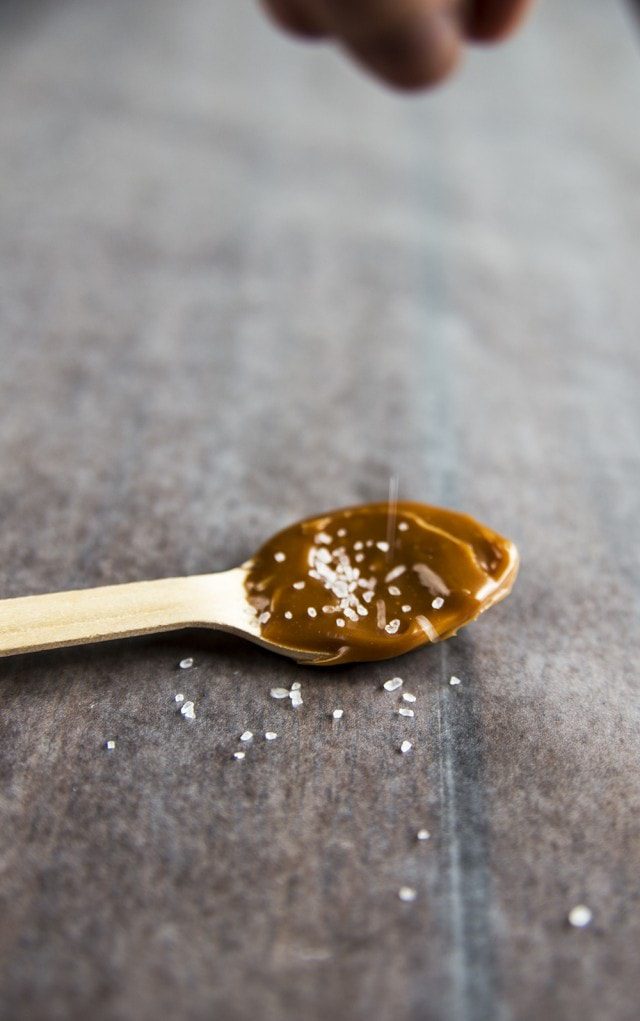 Any combination of coating and candies can be used! If you need some help, here are a few "recipe" ideas:
milk chocolate with peppermint candy pieces
caramel with coarse sea salt
milk chocolate with white chocolate chips
white chocolate with cinnamon chips
white chocolate with mint candy pieces
milk chocolate with toffee pieces
After spoons have cooled, cover with a small treat bag and tie with a ribbon in your favorite holiday colors.
Place finished spoons in an oversized coffee mug with a bag of Dunkin' Donuts coffee and you've got a special gift that will warm your loved one's heart!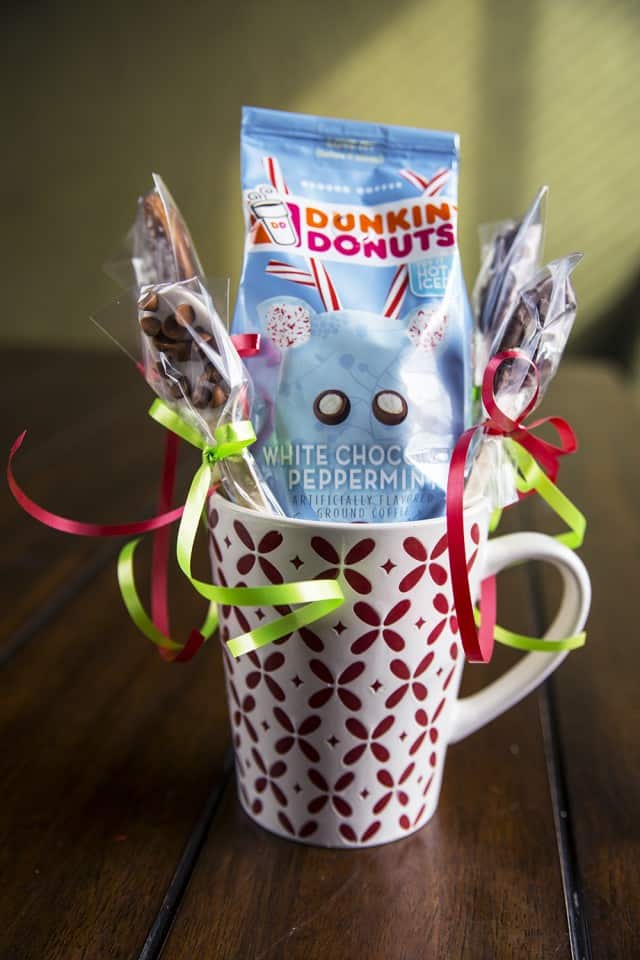 Can you imagine receiving this special gift for the holidays? I know that I would want to brew a cup of java right on the spot!
You can enjoy the delicious taste of Dunkin' Donuts in the comfort of your own home when you brew up their flavorful roasts or pop a cup in your single-cup maker. You don't have to wander far to find time for yourself, you just have to make it a priority — because you deserve it!
Happy holidays!
This post is sponsored by Dunkin' Donuts.