Ginger Chicken Detox Soup
With Spring officially here this weekend (tomorrow!), I feel a resurge of energy and vitality! I'm craving dishes that are lighter than those I've been whipping up the past few winter months and today's recipe is inspired by that.
Ginger, chicken, and fresh vegetables in a delicious stock will leave you feeling refreshed and ready for Spring.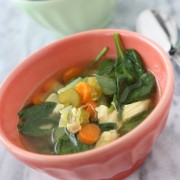 Ginger Chicken Detox Soup
Yield: 4 servings
Prep Time: 15 minutes
Cook Time: 1 hour, 5 minutes
Total Time: 1 hour, 20 minutes
Ingredients:
2 skin-on boned-in chicken breasts
1 (3-inch) piece ginger, peeled and sliced
1/2 medium yellow onion, diced
2 stalks celery, diced
1 large carrot, peeled and diced
2 bay leaves
2 tablespoons fresh lemon juice
1/2 teaspoon ground turmeric
1/4 teaspoon freshly ground pepper
2 cups baby spinach or fresh kale
Directions:
In a large Dutch oven cook chicken in 8 cups water with ginger, onion, celery, carrot, bay leaves, lemon juice, turmeric and pepper. Bring to a boil; reduce heat to low and cover and simmer 1 hour, stirring occasionally. Let soup cool.
Remove chicken and bay leaves from soup; remove skin from chicken and shred. Turn Dutch oven to medium heat. Add chicken back to the soup and add spinach. Cook over low heat 5 to 10 more minutes or until spinach is wilted and heated through.
PIN THIS RECIPE BELOW!