Switch it up with Cinnamon French Toast Strips and Dips
Switch up your breakfast routine with Cinnamon French Toast Strips and Dips to accompany – a little something for everyone!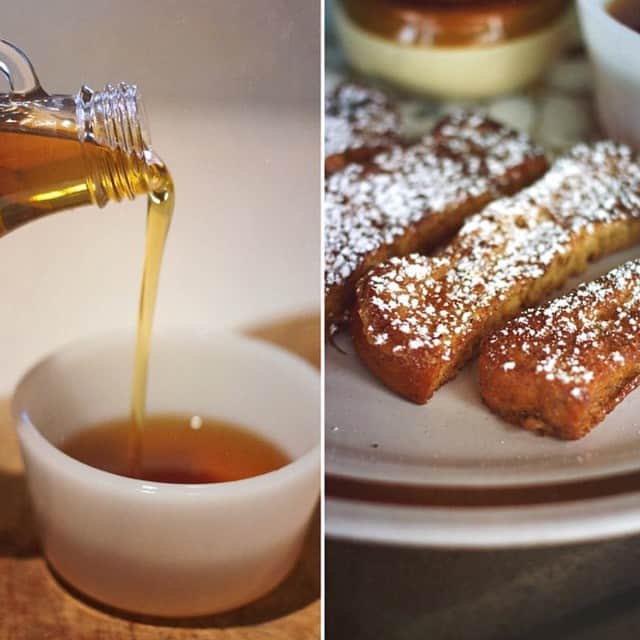 Fragrant and hearty without being too heavy and options for dipping are endless… Nutella, Whipped Cream, even the traditional maple syrup is more exciting when you can dip your toast and have a little more fun at the breakfast table.
Get creative, as you'll have plenty of time to play since this french toast is easy and super fast to prepare. You only need a few ingredients like eggs, cinnamon, butter and a few minutes to whip this up – and this recipe is just how my mom used to make it, so measurements are approximate and easily modified.
Recipe below. xx
Cinnamon French Toast Strips and Dips
Strips of bread battered and fried French Toast Style, and served creatively with an assortment of dipping options - a little something for everyone!
Prep Time: 5 minutes
Cook Time: 20 minutes
Total Time: 25 minutes
Ingredients:
3 eggs
1 tsp [or more!] vanilla - and I've been known to splash some bourbon in the batter for the grownups...
1/4 tsp cinnamon
a few grates fresh nutmeg [or pinch ground]
tablespoon light brown sugar
dash sea salt
about 1-2 tablespoons milk
Several slices sandwich bread
Options for dipping:
Sour Cream or Yogurt and Jam [my personal favourite]
Maple Syrup
Nutella
Whipped Cream
Powdered sugar, optional
Directions:
Whisk all ingredients together in a shallow baking dish.
Slice bread into strips, approx 4 strips per slice.
Heat butter in skillet over medium heat.
Dip strips in egg mixture and fry until golden and brown on both sides, about 1-2 minutes. 
Serve immediately with dipping sauces and smiles, and dust with powdered sugar if desired.