Easy Creamy Tomato Soup Recipe
Winter is approaching and for me that means it's soup season. Don't you just love that first bite, when you can feel the soup traveling all the way down to your belly? So warm, so cozy, so comforting. Thankfully, one of my favorite soups is super easy to make and I'm so excited to share it with you today!
Doesn't that look delicious?
Over the years I've realized that tomato soup is a love or hate it sort of soup, but if you ask me, there's nothing more delicious on a wintry afternoon, than a big mug of tomato soup and a grilled cheese sandwich! It's definitely a childhood favorite, which is probably why it's such a comforting food to me. Reminds me of Christmas vacation and watching the snow cover our yard.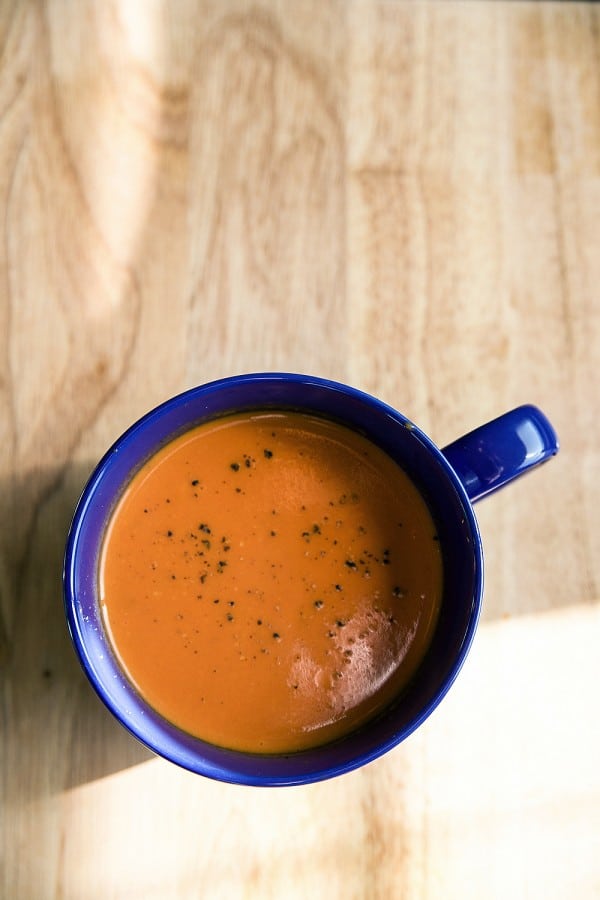 And, for the recipe….
Easy Creamy Tomato Soup
Yield: 4 servings
Prep Time: 5-10 minutes
Cook Time: 15 minutes
Total Time: 20-25 minutes
Ingredients:
30 oz chicken or vegetable broth or stock
28 oz crushed tomatoes
1 cup heavy cream
coarse salt and black pepper
hot sauce to taste (optional)
soup toppers - crusty bread, cheeses (I use grated parmesan)
Directions:
1. Combine broth and tomatoes in a large saucepan over medium heat. Once soup starts to bubble, stir in heavy cream and reduce heat to low.
2. Season with salt and pepper (to taste) and simmer for 15 minutes, stirring occasionally.
3. Using the Kenwood Triblade Hand Blender, puree soup, then serve.
4. Add your favorite toppings and enjoy!