Sparkly Spice Bites Recipe
Sparkly Spice Bites make a great holiday cookie for a few reasons. They are very light, which make them perfect for shipping to loved ones. They also hold up great in a sealed container. If you find the traditional ginger cookies a bit too strong tasting, or if you are just looking for a twist to the traditional gingersnap, try these out. To get the sparkly, sugar top, simply dunk one end in milk, then sprinkle with sugar. The top will have a sweet crunch, while the insides will be airy and soft.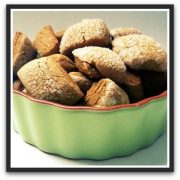 Sparkly Spice Bites
Ingredients:
3/4 c. light-flavor molasses
1/2 c. packed brown sugar
1/2 c. butter (no substitutes)
4 c. AP flour
1 1/2 tsp. ground cinnamon
1 1/4 tsp. baking soda
1/2 tsp. ground nutmeg
1/4 tsp. pepper
2 eggs
Milk
Coarse decorating sugar or granulated sugar
Directions:
1. Combine molasses, brown sugar, and butter in a large saucepan. Heat and stir until melted. Cool mixture about 20 minutes. Stir together flour, cinnamon, baking soda, nutmeg, and pepper in a large mixing bowl; set aside.
2. Beat eggs into cooled molasses mixture with a wooden spoon. Stir in flour mixture. Cover dough with plastic wrap, and chill for 1 to 2 hours or till easy to handle.
3. Divide dough into six equal portions (As shown above, I did 4 equal portions. I'm kind of impatient like that). Roll each portion on a lightly floured surface into a 10-inch rope. Cut ropes diagonally into 3/4-inch pieces. Brush the top of each piece with milk, and dip in coarse sugar or granulated sugar; place 2 inches apart on an ungreased baking sheet.
Bake in a 375-f degrees oven for 7 to 8 minutes or till edges are firm and bottoms are lightly browned. Transfer to wire racks and cool.
Better Homes and Gardens - Christmas Cookies 1999